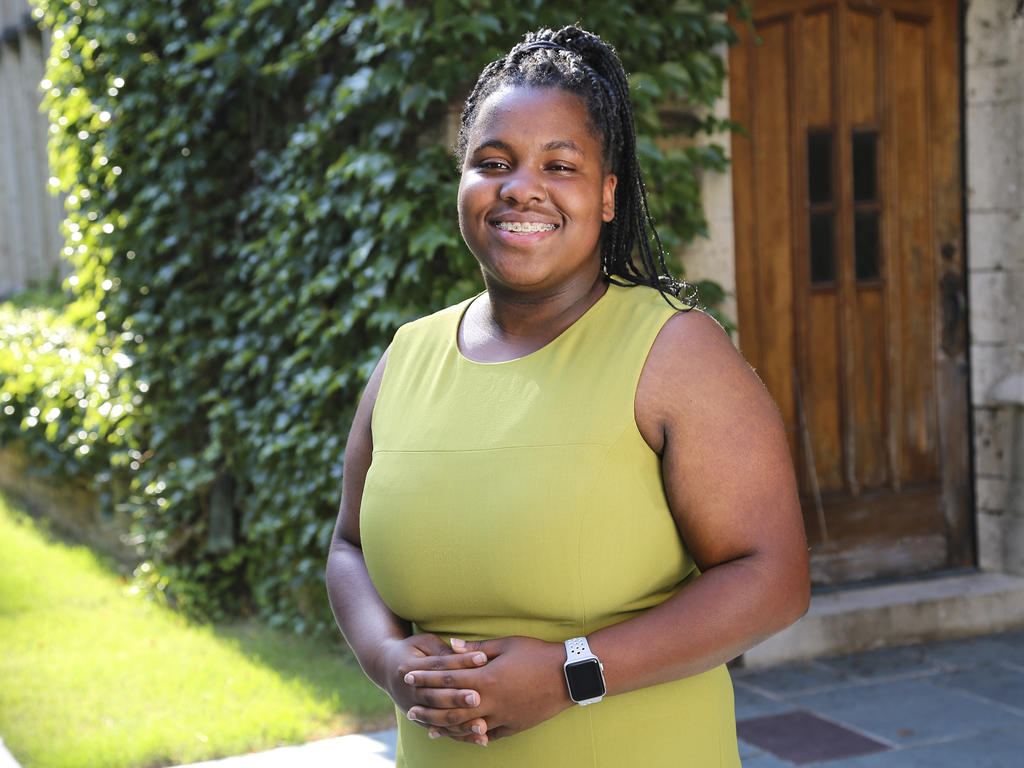 August 30, 2021
"You can't have Rhodes without the city of Memphis." That's how Priscilla Foreman '23 sums up her experience as a marketing intern at City Leadership through Rhodes' 2021 Summer Service Fellowship Program.
The Arkansas native first learned about City Leadership from the organization's Choose 901 marketing campaign, which she relied on her first year at Rhodes to keep her in the loop of fun and engaging activities in town. Established in 2010, City Leadership uses various marketing campaigns incorporating the Memphis 901 area code—Teach 901, Serve 901, Give 901—to maximize the leadership capital and potential of the city.
"Our main mission is to help not only recruit talent—something people usually identify us with—but also to recognize that we have talented people right here with the awesome skills, talents, and connections to thrive in the city of Memphis," says Foreman. "I've been able to work on multiple projects where I've not been in an office saying, 'I did something,' but been out in the community making an impact."
Foreman's main responsibilities this summer involved the production of City Leadership's marketing materials. She says her experiences serving as communications director for Rhodes' Black Student Association had given her experience in social media management and in creating digital content, while her courses in film and media studies developed her skills in writing and visually producing content for various media.
A history/media studies double major, Foreman was also able to contribute her skills for photography to the organization. "Many projects required me to capture different cityscapes, events, and Memphians throughout the city. I got to see sides of Memphis that I have never seen before, and it was rewarding.
"This internship has made me feel more confident, and proud, to call myself a Memphian. With this newly added experience, I feel at home right here, and hope to stay. From all of the different people I've met through my time serving at City Leadership to all of the talented students, faculty, and staff at Rhodes, I feel confident in a future here in Memphis, TN, helping to continue the great things already happening in this city."
Foreman is doing just that this fall, when she'll be interning at the world-renowned Stax Museum of American Soul Music through a Rhodes history fellowship. "Fellow Rhodes students and I will be working with a new collection at the museum, the Bob Abrahamian Collection of Chicago soul music. As interns, we will primarily work alongside the Stax Museum Director of Collections/Exhibits, Mrs. Raka Nadi, to learn proper storage protocol and techniques for archival material. Another aspect of the internship is creating materials for social media, including highlighting the collection's contents and creating intuitive ways to interact with visitors and guests," says Foremen.
"I am genuinely grateful to the Association of Registrars and Collections Specialists (ARCS) for awarding me a stipend and student membership to explore this area of registration and collections. Also, a big thanks to Professor Robert Saxe and the history department for offering diverse, engaging, and unique experiences for students interested in the field of history."
By Tram Truong '24
The Summer Service Fellowship provides students with an intensive learning experience that, while rooted in service, is designed to give fellows the opportunity to engage in the Memphis community while learning about issues of social justice and inequity. Summer Service Fellows spend 40 hours a week immersed in the program, with 36 hours spent working at a nonprofit of their choice and the remainder spent in group sessions focused on issues of societal or economic concern to Memphis, such as public transportation, health, and education. By providing funding and housing, Summer Service Fellowships also help students explore different possible paths in preparation for graduate school or their careers.