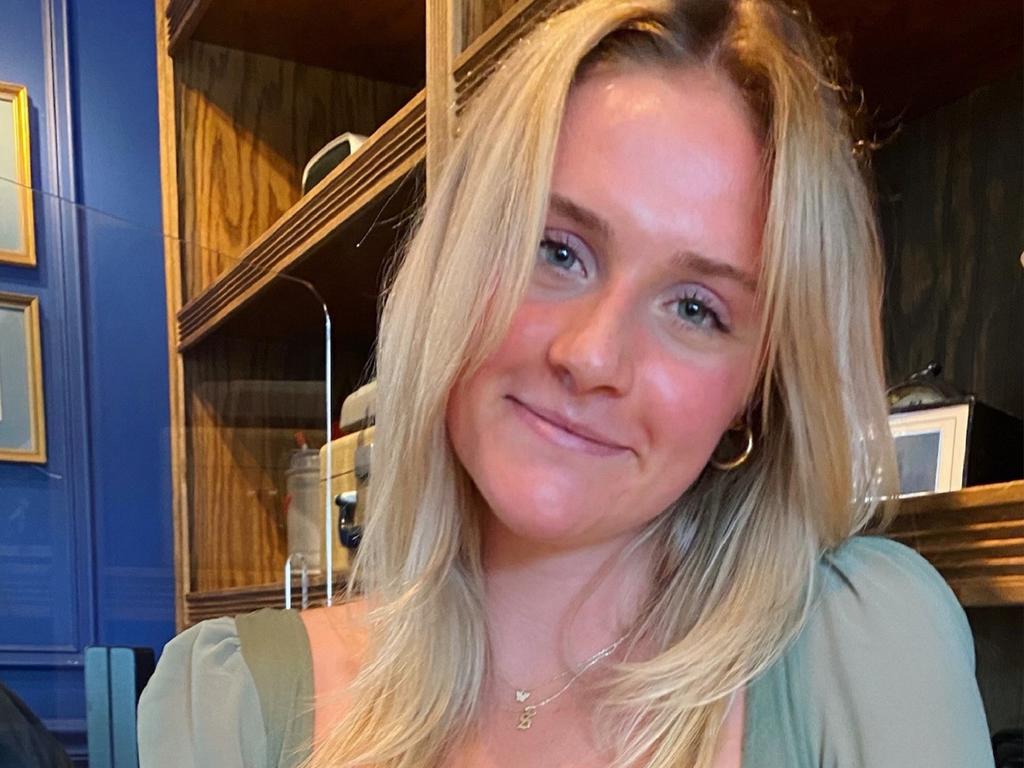 January 18, 2022
Sinead Eksteen '22, a biology major from Vienna, VA, won the annual scholarship presented by the Memphis Area Geographic Information Council (MAGIC), which is made up of geographic information system (GIS) professionals and students. Representing the public, private, governmental, and  business sectors, members of MAGIC share their GIS knowledge and experiences capturing, mapping, analyzing, storing, and displaying data. 
The $2,000 scholarship was announced at the group's Geospatial Conference held Nov. 18-19 at the Memphis Botanic Garden.
Eksteen submitted a written research proposal and then gave a 20-minute research talk titled "Benthic Biodiversity and Vulnerability to Sea Level Rise in the Chesapeake Bay" at the conference. The focus of her research has been on benthic organisms living at the bottom of the Chesapeake Bay, which is in the Mid-Atlantic region, and in its streams and rivers. Examples of benthic organisms are worms, mussels, sponges, and shrimp-like crustaceans. Benthic communities also include bacteria and plant life.
"The benthic community not only plays several significant roles in the food web, but also serves as an important indicator of environmental conditions in the Chesapeake Bay," says  Eksteen. "The objectives of my research were to identify the number of species in a defined area, analyze associated levels of vulnerability to predicted sea level rise and coastal flooding, and to recognize where conservation and management efforts should be directed. I found that the highest areas of benthic species richness were concentrated within the northern tributaries and estuarine regions of the Bay, which are areas I identified to be highly vulnerable to climate change and associated sea level rise. Using projected sea level rise scenarios for the years 2050 and 2100 I found that in 2050, 92% of benthic habitat will be affected, and in 2100, 98% will be affected."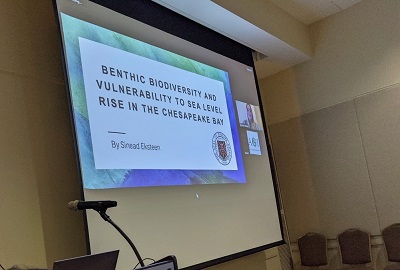 Eksteen also won the prize for the student map competition for her poster on the same topic as her oral presentation.
Roland Chang '22, an environmental science major, also gave a 20-minute research talk, titled "Impact of COVID-19 on Urban Heat Islands and Air Quality: New York City."
Both students' projects were developed from their research for ENVS 325 Advanced GIS & Remote Sensing. Dr. Sarah Boyle, associate professor of biology and chair of the Environmental Studies and Sciences Program at Rhodes, is their advisor. 
"GIS is used by professionals and researchers across many disciplines, from the natural sciences and social sciences to the arts and humanities," says Boyle.  "Many Rhodes alumni are currently in careers where they use GIS as part of their daily jobs or as part of their graduate school research."