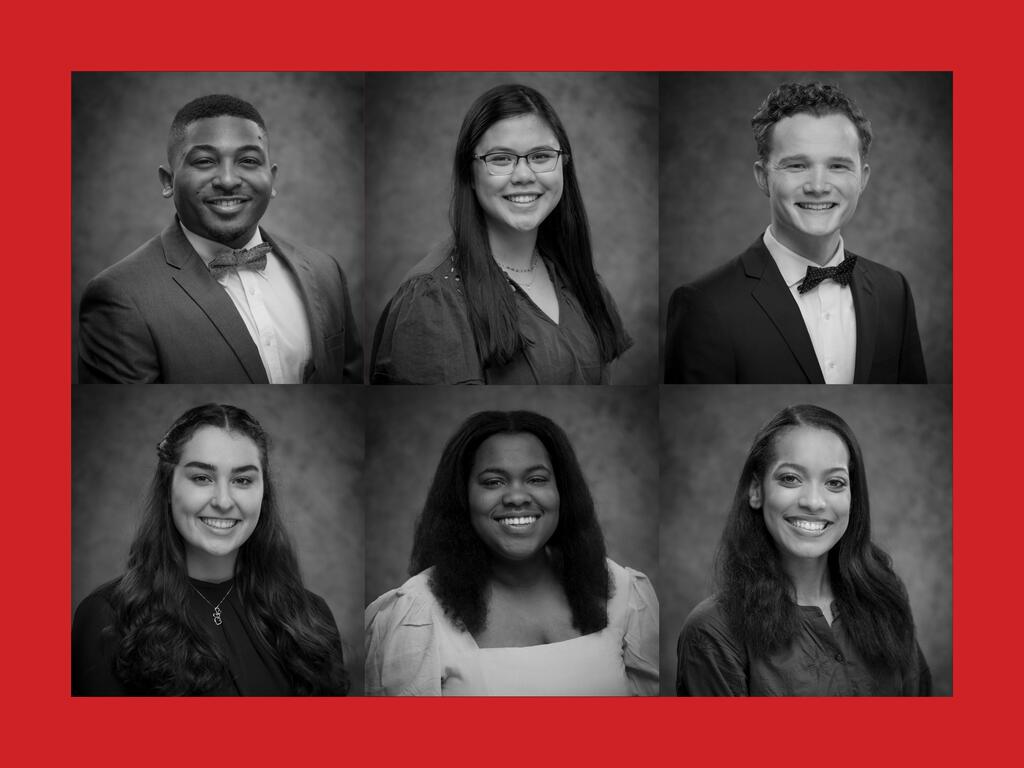 May 08, 2023
Six seniors' portraits are being added to Rhodes College's Hall of Fame on the second floor of Southwestern Hall. They are David Caddle, Priscilla Foreman, Mia Harris, Owen Lubinski, Eliana Mabe, and Mallory Mire.
Selection to the Hall of Fame, which was established in 1931, is based on individual merit, leadership in student activities, service to others, and overall contributions to the campus community. Honorees are chosen by their peers.
David Caddle, an urban studies major from Jackson, MS, has served as student body president and president of the Community Standards Council. He also is a Bonner Scholar; member of the Rhodes mock trial program and Alpha Phi Alpha Fraternity, Inc.; and president of Roots, a student organization of the Botanical Society of America. Caddle has worked as an Urban Fellow for the City of Memphis' Department of Housing and Community development. Recently, he was selected for the prestigious Coro Fellowship in Public Affairs, involving fellows participating for nine months in full-time projects across a variety of sectors in public affairs.

Priscilla Foreman, a history and media studies major from White Hall, AR, is a residential assistant, a member of the Honor Council, and communications director and mentor for Rhodes College Multicultural Vision Program.  She has served as a Rhodes College Diplomat and, as an avid photographer, started the Rhodes College Shoot Your Shot Photography Club. Off campus, Foreman has held internships at City Leadership and at the Stax Museum of American Soul Music and has served as a teaching assistant for the Refugee Empowerment Program. In 2022, Foreman worked in Washington, D.C., as a history office intern for NASA.
Mia Harris, a biology major from Hermitage, TN, has worked as an Animal Behavior and Conservation Fellow at the Memphis Zoo, researching and collecting information that will help improve the care of captive elephants and protect the wild elephant community. She is a member of the women's swimming and diving team and has served as a Rhodes College diplomat. Harris is a member of the Omicron Delta Kappa leadership honor society and Mortar Board honor society for seniors. She is being inducted into Phi Beta Kappa, which is America's oldest collegiate honor society.
Owen Lubinski, a neuroscience major from Odgen, UT, also is being inducted into Phi Beta Kappa. He is pursuing a minor in music and is president of the Rhodes Singers. In 2022, he participated in the Rhodes Singers and Chamber Singers' tour in Germany and the Czech Republic and interpreted some of the music on the program through American Sign Language.  In addition, Lubinski is president of the ASL and Deaf Culture Club at Rhodes, which offers students the opportunity to learn and share American Sign Language. He also is a resident assistant.
Eliana Mabe, a media studies major from Colorado Springs, CO, serves as president of the Rhodes Theatre Guild, co-president of the Latinx Student Association, and the digital content associate for the Rhodes Office of Development. She is a member of several honor societies including Mortar Board, ODK, Theta Alpha Kappa for religious studies, and Gamma Sigma Epsilon for chemistry. In 2021, Mabe was a Rhodes Institute for Regional Studies Fellow, conducting research on the yellow fever epidemic that hit Memphis in 1878 for her play Pinchguts. In the broader community, she is the social media manager and a teaching artist for SunFish Children's Theatre. In the summer of 2022, Mabe participated in the inaugural Williamstown Theatre Festival, an intensive training program held in Massachusetts, where she was mentored by Broadway artists.
Mallory Mire, a business major from Franklin, TN, serves as a Student Trustee, president of the Black Student Association, president of Rhodes College Cheer, and program chair for the Rhodes Multicultural Vision Program, which is a mentorship program for students of color. She also works as a student associate for the Office of Belonging. Off campus, Mire has served as a volunteer for Girls on the Run, an inclusive social/emotional development program, and has served as secretary of the Memphis Metro chapter of the National Association of Black Accountants. She is a member of the Rho Gamma chapter of Delta Sigma Theta Sorority, Inc.