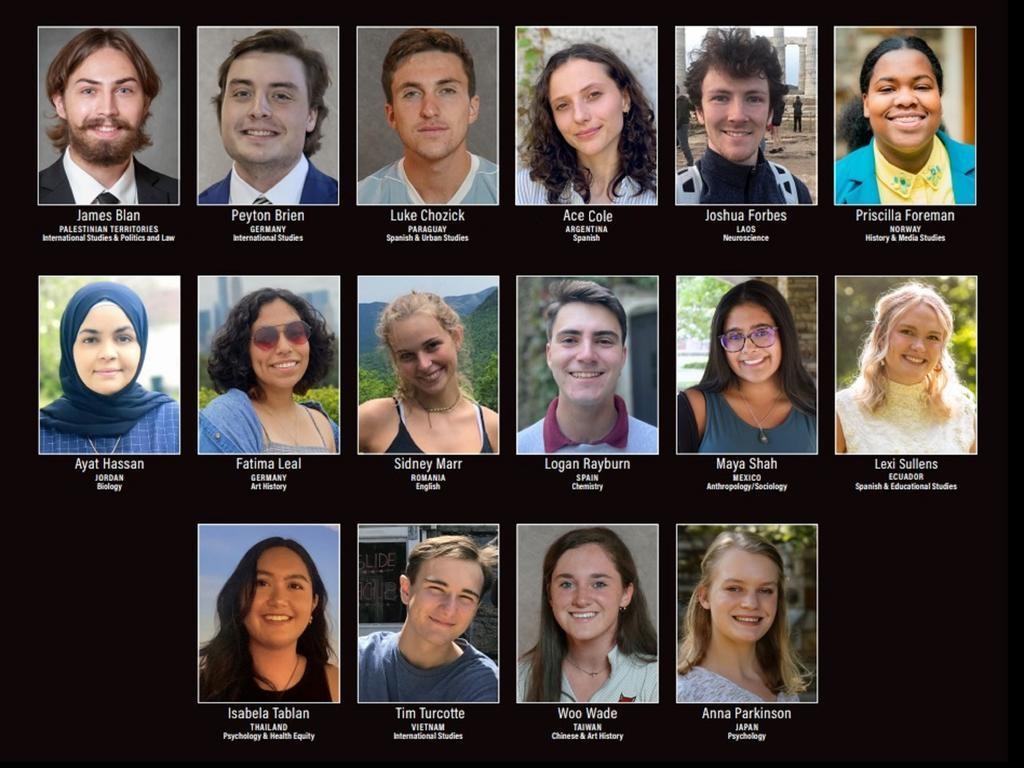 October 24, 2022
Rhodes College was recognized as a top Fulbright-producing institution for 2021-2022 by the U.S. Department of State's Bureau of Educational and Cultural Affairs.
 
The Fulbright Program is the flagship international educational exchange program sponsored by the U.S. government and is designed to increase mutual understanding between the people of the United States and the people of other countries. The Fulbright U.S. Student Program provides grants for English teaching assistantships as well as for individually designed study/research projects. 
Sixteen from Rhodes will be competing for Fulbright U.S. Student Awards for the 2023-2024 academic year. The following list includes the student's major (s) and the country of interest.
James Blan
International Studies and Politics and Law
Applied to Palestinian Territories
Peyton Brien
International Studies
Applied to Germany
Luke Chozick
Spanish and Urban Studies
Applied to Paraguay
Ace Cole
Spanish
Applied Argentina
Joshua Forbes
Neuroscience
Applied to Laos
Priscilla Foreman
History and Media Studies
Applied to Norway
Ayat Hassan
Biology
Applied to Jordan
Fatima Leal
Art History
Applied to Germany
Sidney Marr
English
Applied to Romania
Anna Parkinson
Psychology
Applied to Japan
Logan Rayburn
Chemistry
Applied to Spain
Maya Shah
Anthropology and Sociology
Applied to Mexico
Lexi Sullens
Spanish and Educational Studies
Applied to Ecuador
Isabela Tablan
Psychology and Health Equity
Applied to Thailand
 
Tim Turcotte
International Studies
Applied Vietnam
Woo Wade
Chinese and Art History
Applied to Taiwan
Recipients are chosen for their academic merit and intellectual potential, and winners will be announced throughout Spring 2023.
Students interested in applying for other Post-Graduate Scholarships, should contact Dr. Esen Kirdis or Dr. Jason Richards.