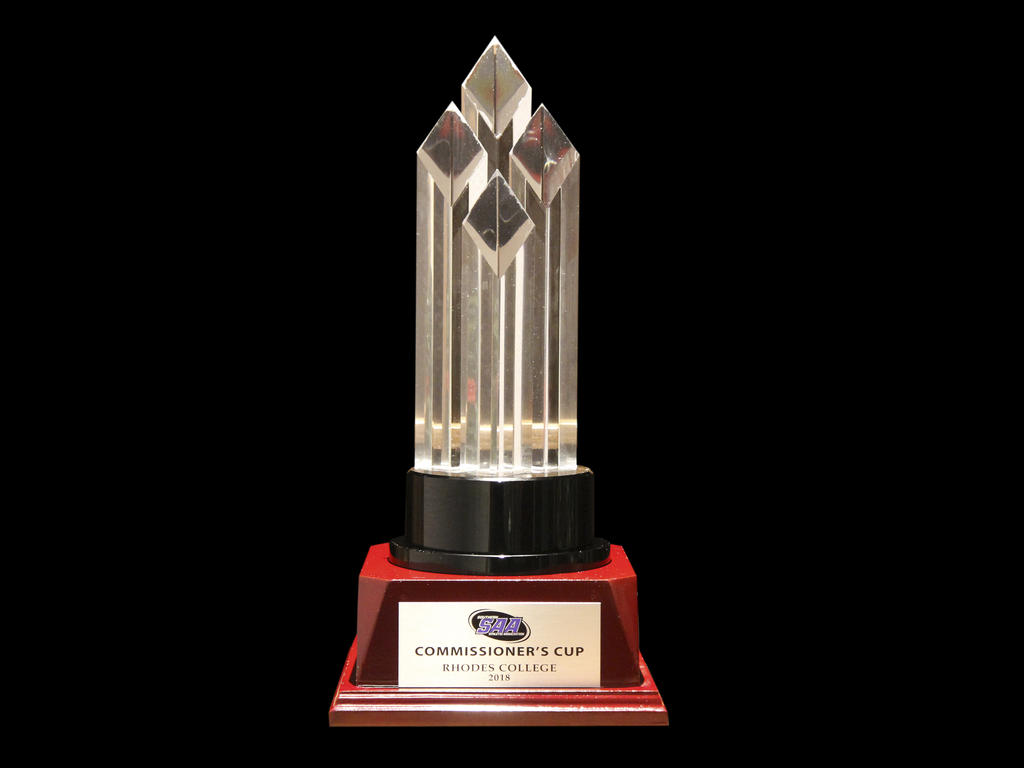 July 03, 2018
It was a spring full of championship titles and team and individual firsts.
Women's Lacrosse won their third consecutive regular season conference championship, earning the team its first-ever NCAA DIII No. 1 regional ranking. Making their fourth NCAA appearance, the team advanced to the Sweet 16. Seniors Kendall Cunningham and Maggie Rippeto capped off their careers as the top-two points leaders in SAA history. Cunningham, a four-time All-SAA and four-time All-South Region honoree and the 2018 SAA Offensive Player of the Year, also made women's lacrosse history after earning third team All-America honors. Doyle garnered the first Lynx invitation in the history of the program to play in the Senior All-Star games of the Intercollegiate Women's Lacrosse Association.
Men's Lacrosse won their first SAA Tournament Championship in school history, and advanced to the third round in their first-ever NCAA tournament appearance. Senior Ryan Fennelly, the SAA's 2018 Offensive Player of the Year, became the first player in program history to be named an NCAA DIII Scholar-All American by the United States Intercollegiate Lacrosse Association. Fennelly and fellow senior Steven Yowan were named SAA Players of the Year, and both were invited to play in the Intercollegiate Men's Lacrosse Association Senior All-Star Game.
Men's and Women's Track & Field teams both took home SAA championship titles, where they captured 12 individual titles and 36 all-conference performances. Sara Kate Capel '20 earned the most points by an individual at the SAA Championship. Eleven Lynx earned All-South Region honors, and senior Renn Eason was named the SAA Male Field Athlete of the Year for the third consecutive time. Junior Spencer Fields and sophomore Toler Freyaldenhoven, both long-distance runners (and biochemistry and molecular biology majors), earned College of Sports Information Directors of American (CoSIDA) Academic All-District honors. Capel, Eason, Fields, Leda St. Cyr '20, and Tej Suber '18 all earned NCAA Championship appearances. Eason placed fourth in the high jump, his second All-America honor this year. Coach Robert Shankman and his staff earned SAA Coach of the Year honors for both the men's and women's teams.
Men's Golf earned their second straight SAA Championship title and an automatic bid to the NCAA DIII Championship. It was the fifth consecutive NCAA Championship appearance for the Lynx. Coach Bill Cochran was named SAA Men's Golf Coach of the Year. Senior Chris Harris was named a Srixon/Cleveland Golf All-America Scholar. Women's Golf placed fifth at the SAA Championships, led by all-conference honorees Tabitha Diehl and Emily Salamy. The Tennessee Sports Hall of Fame honored the 2017 Rhodes women's golf team as the Amateur Team of the Year at their 52nd Annual Induction Banquet in Nashville.
Rhodes Baseball made it to the NCAA Central Regional Championship series for the first time in program history, and earned top-20 rankings in two national polls. The program's historic season included its fourth NCAA appearance in the last five years, second consecutive conference tournament championship earned on the road, and a program-record for conference wins in a season. Utility player Nick Bosma '19 garnered 2018 D3baseball.com honorable mention All-American honors (and became the star of a viral video—he talks with the Commercial Appeal about that experience, and the team's great season run, here), and sophomore Paul Giacomazzi earned the American Baseball Coaches Association/Rawlings Gold Glove award for the second year in a row (the youngest NCAA DIII to do so.)
Rhodes Softball advanced to the SAA Championship game for the first time in program history, and ended their season with a 23-16 record when weather forced the team to play three competition games in one day. Jill Healy '19, Kendall Henry '19, and Allison Long '18 garnered SAA All-Tournament team status.
Men's Swimming placed third at the SAA Championship, while setting new school records— freshman Hayden Hill in the 500 free, 100 fly, and 200 fly; senior Simon Boles in the 200 back; and the 400 free relay team. Women's Swimming & Diving placed second at the SAA Championship meet, where they had seven first-place finishes and broke one SAA records and six Rhodes' records. Three members competed at the NCAA Division III Swimming & Diving Championships and posted the strongest national showing for the Lynx in program history. Senior Virginia Carr set a new personal best and a new school record in the 200 breaststroke in the final performance of her career, and was recognized individually as a 2018 First Team Scholar All-American, in addition to the women's team earning Scholar All-American honors.
Dasha Safarian '21 and Caroline Doherty '19 earned SAA All-Conference honors for Rhodes Women's Tennis for the 2018 season. Safarian went 2-2 in conference play at No. 1-singles and 9-4 overall to earn first team honors. Doherty went 4-0 against conference opponents at No. 2-singles and accumulated a 10-4 overall record to earn second team honors. In Men's Tennis, Ritwik Chatterjee and Phil Lauture earned All-Conference nods. Chatterjee, the 2017 SAA Newcomer of the Year, went 5-1 in conference singles and 15-5 in singles overall. Lauture, named Rhodes' 2018 team MVP, went 7-0 in conference singles play and 14-4 overall.
In addition to receiving the 2017-2018 SAA Commissioner's Cup, which recognizes the SAA institution with the overall best varsity athletic program, Rhodes placed 57th in the Learfield Director's Cup. To cap it off, Rhodes' student-athletes led the SAA's 2018 winter AND spring All-Academic Honor Rolls with a final tally for the year of 322 academic honors, compared with the next closest school's total of 236.
All in all, a year for the history books!