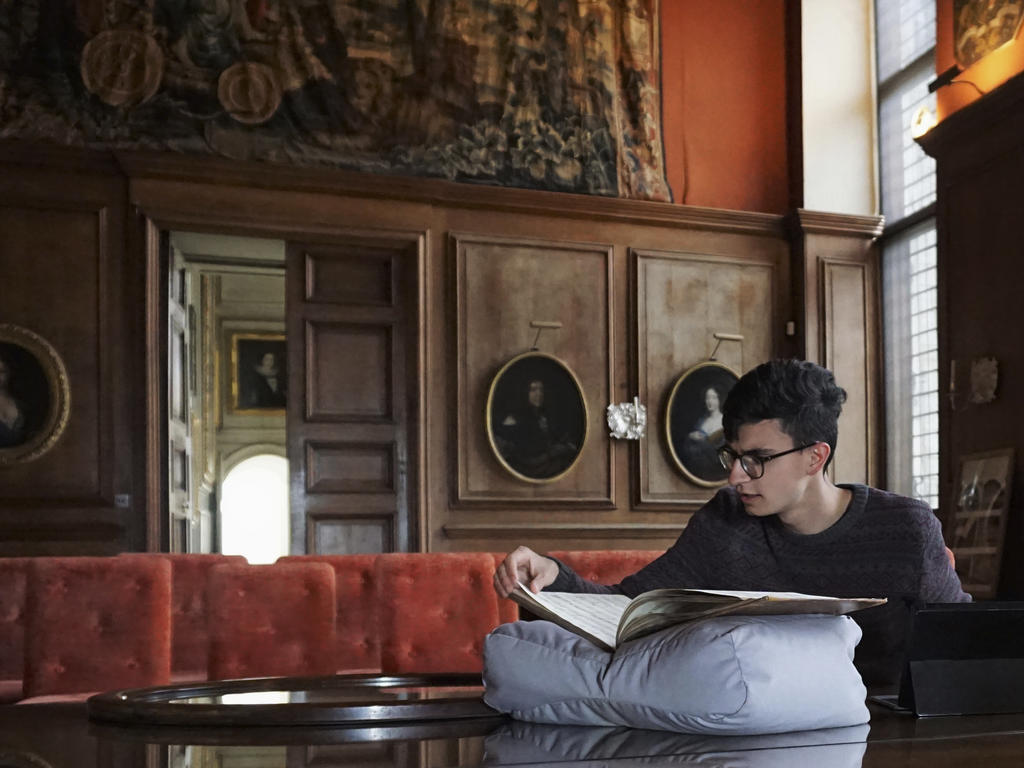 August 14, 2018
Rhodes College may be located in a city famous for being the home of the blues and the birthplace of rock and roll, but Chandler Hall's musical interests have taken him a little farther afield—all the way across the pond to Kettering, England. The junior music and history double major has a particular interest in Ancient music and music of the British Isles, and spent the early part of his summer interning under a Department of Music Archival Fellowship that was designed especially for him.
Dr. Vanessa Rogers, music history coordinator at Rhodes, was one of the professors involved in the creation of Hall's fellowship. "Chandler was interested in possibly going into curatorship as a career, so we looked around for opportunities that would suit him. I had a connection with Boughton House in England—my research in 18th century English music had brought me to their collections—so I contacted them to see if they would be willing to help me create a fellowship for him," she says. "They already have a graduate student doing similar work there, and so they knew exactly how Chandler could help out and do actual archival work over the summer."
"The fellowship allowed Chandler to experience a connection with archivists and music librarians in a different country," adds Carole Blankenship, associate professor of music and the Elizabeth G. Daughdrill Chair in the Fine Arts at Rhodes. "That could certainly guide the trajectory of his career."
Boughton House is known for its colorful history, extensive art collection, and the Montagu Music Collection. "My place of internship has a centuries-long connection to the classical music tradition," explains Hall. "The Second Duke of Montagu hosted Handel at the estate and organized the Royal Fireworks event, for which Handel composed the music. Generations later, Lady Elizabeth Montagu and her daughter Caroline Douglas helped curate the music collection at the Buccleuch estates, sourcing a unique extant copy of a set of Lassus part-songs, among many other notable works. Today, Duke Richard plays a leading role in preserving the collection and continues to revive the works housed here for concerts in the house and gardens.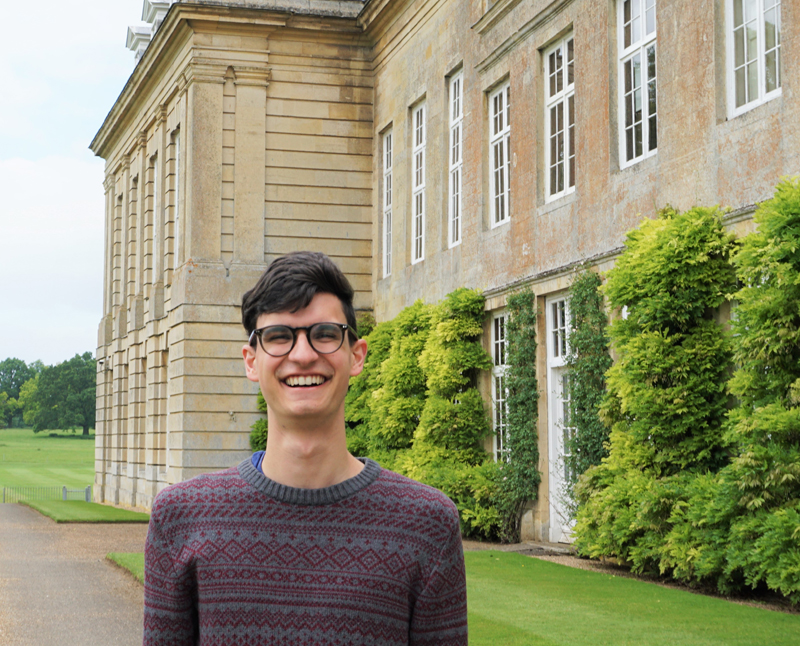 "I jumped headfirst into the rich and impressive music archives of Boughton House, partnering with Southampton University to assist in cataloguing the volumes of miscellanies. I also worked closely with the archivist of the Montagu Music Collection to help streamline and revise the catalogue."
Hall's time at Boughton House, however, wasn't just spent amongst the stacks of archives. "During my time there, I crossed paths with many other scholars, academics, and amateur historians, including a professor at Vanderbilt University (small world!), an Antiques Roadshow appraiser, the Duke of Buccleuch and Queensberry, a group of local retirees who assist with preservation work, and a herd of lambs who greeted me on my bike ride into the estate each day."
Hall also spent the last week of his fellowship in Scotland at Bowhill House and Drumlanrig Castle with Crispin Powell, the Buccleuch archivist, gathering artifacts for this summer's exhibition at Boughton House.
"Despite working with artifacts older than this country, every day was new and exciting," says Hall. "I had hoped to test the waters with this experience, but I have already jumped in!"
By Olivia Doty '20
Editor's Note: Dr. Rogers also conducts a summer program in London for all Rhodes students through the college's Buckman Center for International Education. More information about study abroad opportunities can be found here.