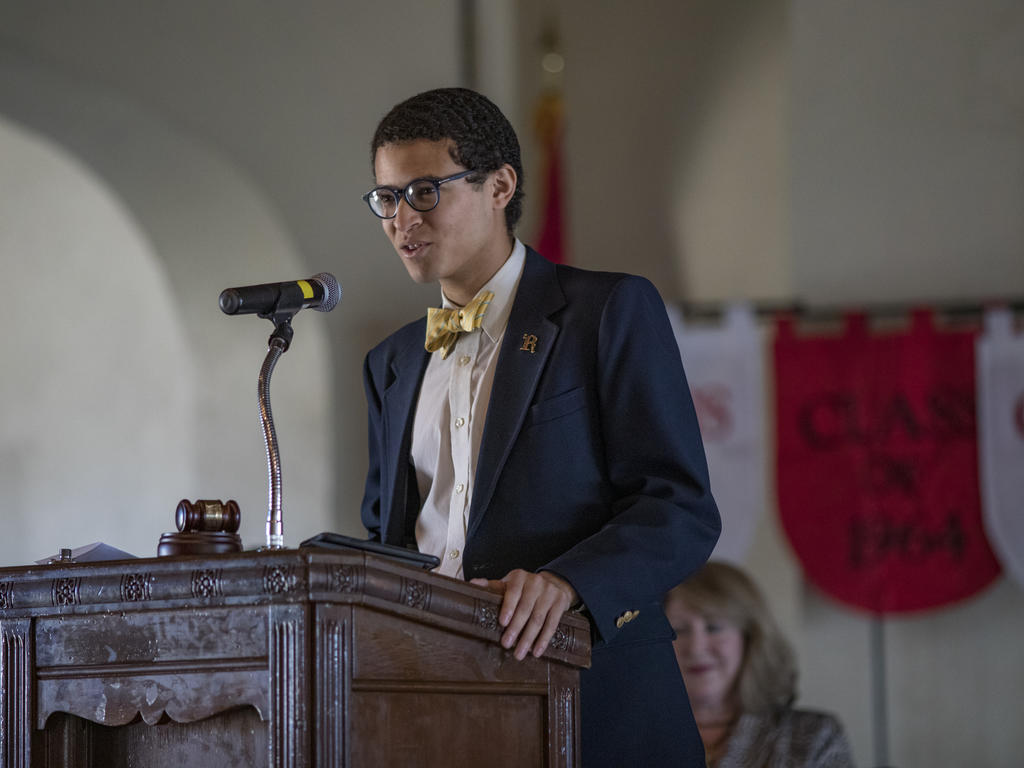 August 06, 2020
Tony Eskridge '20, an urban studies major and former Rhodes Student Government president, has won an Emerson National Hunger Fellowship, an 11-month program that provides unique leadership development opportunities for motivated individuals who wish to make a difference in eliminating hunger and poverty in the United States.
 
Emerson Fellows are placed with community-based organizations across the country in the fall and with policy-focused organizations in Washington, D.C., in the spring, including food banks, economic development agencies, think tanks, advocacy groups, and faith-based organizations. Fellows support partner organizations with research, evaluation, organizing, advocacy, outreach, and public education, and their original material contributes to the database of resources and publications of the Congressional Hunger Center in Washington, D.C., which sponsors the fellowship.
Eskridge will be working with the Pittsburgh Food Policy Council (PFPC) whose mission is to build a food system that benefits the community, economy, and environment in ways that are just, equitable, and sustainable. Driven by community-led solutions, PFPC brings together individuals and governmental, nonprofit, and academic entities to re-imagine the region's food system.
"I believe policy makers hold the power to create systemic change, and I also believe that marginalized communities closest to systemic problems such as hunger and poverty should have a leading voice in creating public policy solutions," says Eskridge. "This fellowship allows me to connect community work to policy making, and I am incredibly grateful for this opportunity."
 
A graduate of Christian Brothers High School in Memphis, Eskridge came to Rhodes as a recipient of the Clarence Day Scholarship, a program that recognizes incoming students who have demonstrated service to the city and provides them with continuing opportunities to make a difference. In addition to his term as RSG president, he also served as chairman of the Class Council and as a student mentor in the First-Year Seminar and Serving Our Students (SOS) programs. As a 2018 Summer Service Fellow, Eskridge worked for BLDG Memphis, which supports the revitalization of Memphis neighborhoods through organizational capacity building, public policy and advocacy, and community education and engagement. In the Rhodes Institute for Regional Studies, he researched the historic devaluation of black neighborhoods and the urgency to address poverty in Memphis. In May 2020, Eskridge was inducted into Rhodes' Hall of Fame.
  
"I am thankful for my academic advisor, Dr. Keith Gibson, for stressing the importance of studying public policy and politics' influence over social inequality," says Eskridge. "I am also grateful for the urban studies program faculty and the Rhodes Institute for Regional Studies faculty cohort, especially my research advisor, Dr. Charles Hughes. I credit him with enhancing my voice and influence as a writer and a researcher. His mentorship improved my research quality and my ability to craft strong arguments throughout my writing." 
Eskridge says the Emerson National Hunger Fellowship is the next step in his aspiration to have a career in community development and urban policy.