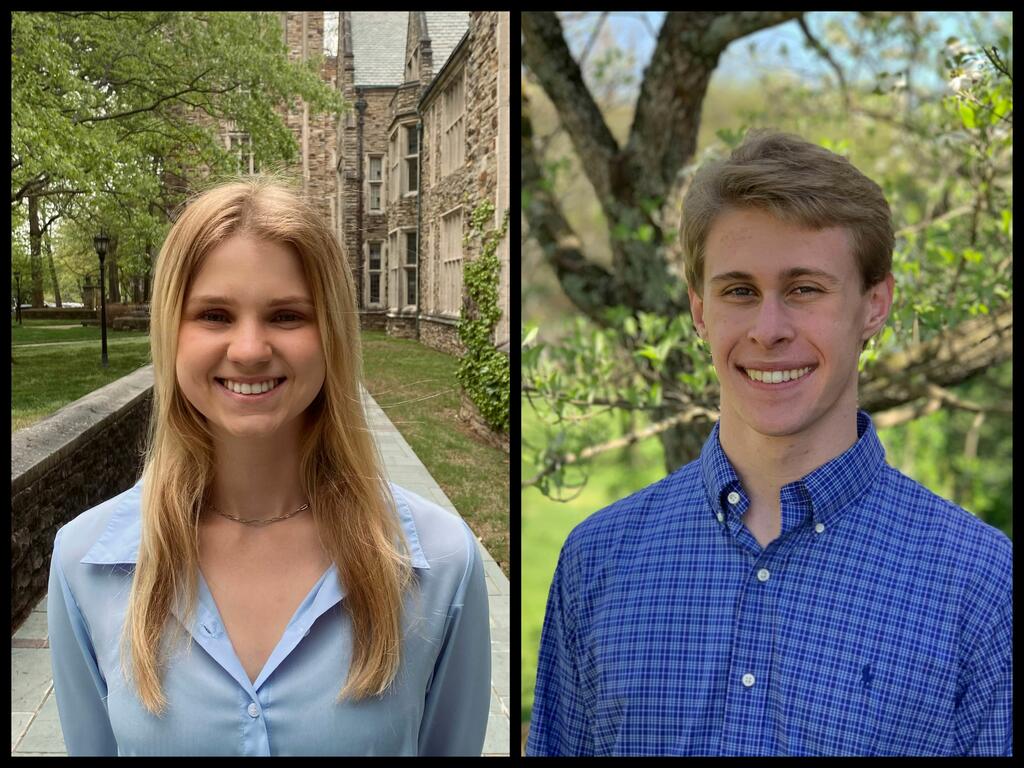 April 11, 2023
Rhodes College junior Abigail Hultquist and sophomore Ryan McCrory are among the 413 students from across the United States who have been selected as Goldwater Scholars in the 2023 competition.
Established by Congress in 1986 to honor Barry M. Goldwater, a five-term U.S. senator, the Goldwater Foundation provides scholarships to support college sophomores and juniors who show exceptional promise of becoming the nation's next generation of natural sciences, mathematics, and engineering research leaders. Students cannot apply for the scholarship, but rather must be nominated by their institutions. Since 1997, Rhodes has had 21 Goldwater Scholars, including Hultquist and McCrory.
"It was a pleasure working with our students to prepare their applications, which gave me an insider's view of all their accomplishments," said Dr. Larryn Peterson, associate professor of chemistry and the Goldwater faculty representative. "The Goldwater competition is always strong; however, these scholarships are well-deserved and reward Abby and Ryan's hard work as well as encourages their further pursuit of excellence."
***
A mathematics and psychology major from Bartlett, IL, Hultquist plans to pursue a career in research, using mathematical techniques to address complex social challenges. "I hope to work collaboratively with social scientists, policymakers, and community organizations to develop mathematical models and analyses that offer valuable insights and shape policy decisions," she said.
For nearly two years, Hultquist has been conducting developmental psychology research with Dr. Kiren Khan, assistant professor of psychology, in the Language and Literacy Lab on campus. "We are experimentally researching factors that influence children's linguistic development," said Hultquist. "Dr. Khan has had a significant impact on my Rhodes experience, giving me the opportunity to join her lab my freshman year. As a result, I have gained valuable insight on the research process and developed a strong desire to pursue it as a career."  
Hultquist has been working with local nonprofit Slingshot Memphis, where she is researching and identifying the most effective strategies for alleviating poverty in Memphis. "I have witnessed how research can be used to drive change and make a meaningful impact on people's lives," said Hultquist. "I am so grateful for the opportunities I have had to learn from many intelligent and driven individuals and am eager to continue a career that embodies lifelong learning."
***
A physics major from Maryville, TN, McCrory plans to teach at the university level and conduct observational astronomy research with instrumental and data analysis. "I would like to get a Ph.D. in astronomy and astrophysics to build the skillset to participate in cutting-edge research," he said.
McCrory works in the lab of Dr. David Rupke, associate professor of physics, who is the software lead of an international collaboration of astronomers and astrophysicists studying distant quasars with NASA's James Webb Space Telescope. McCrory has contributed software to the project, and presented some of the team's findings at the 2022 Physics Congress (PhysCon) held in Washington, D.C.
"This summer, I will be participating in a 10-week research program funded by the National Science Foundation at the University of Wyoming studying O- and B-type stars utilizing infrared spectroscopy," said McCrory. "I would like to thank Dr. Rupke as well as Dr. Ann Viano, Dr. Brent Hoffmeister, and the Rhodes physics department as a whole for being incredibly supportive throughout my undergraduate career. I am extremely fortunate to have such good mentors."
In addition to serving as president of the Rhodes Astronomy Club and working as a Rhodes College Observatory student associate, McCrory enjoys rock climbing and fencing.