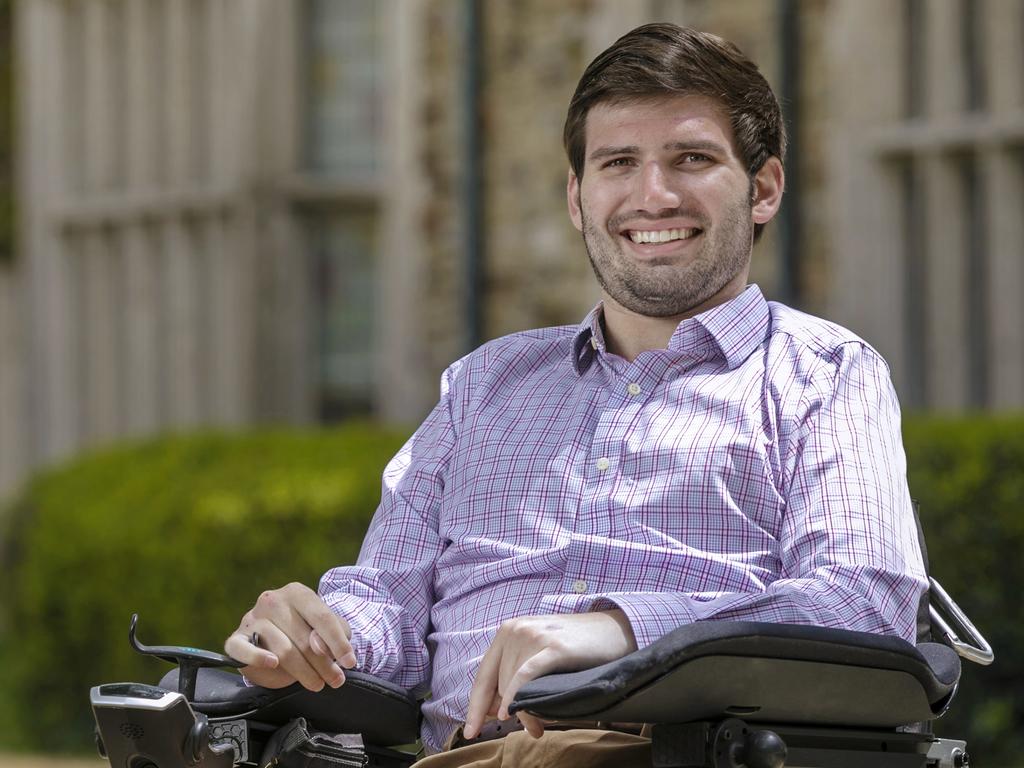 June 25, 2018
Around campus, William Jirik '18 is known for his saying, "Where there's a Will, there's a way," and the business and economics double major has shown that, with enough determination, one can overcome obstacles and achieve what they set out to do.
The Arkansas native graduated from Cabot High School in 2012 and began his journey at Rhodes College. Wanting to contribute to the campus community, he ran for one of the Rhodes Student Government positions and was elected to serve as senator the next year. However, during the summer 2013 break, Jirik sustained a spinal cord injury from a car accident and spent the next academic year in a rehabilitation facility.
Although he returned to Rhodes in a wheelchair, Jirik didn't let that prevent him being actively involved in campus life. He credits Melissa Butler, director of student accessibility services, with going above and beyond to help him out, and making sure the campus was open and accessible to him. His outgoing personality didn't hurt, either. "I find that a good way to meet people and make friends is just ask them for help with something." 
Still interested in leadership, Jirik successfully ran for the Social Regulations Council (SRC), the student body that ensures that peers uphold Rhodes community standards, where he has served for the last three years. "I enjoy that the student body holds each other accountable," he explains. "The SRC's not administratively led; we deem the morals acceptable as a community."
Jirik next campaigned to become a student trustee, one of three students who report to Rhodes' Board of Trustees based on their individual committee's focus. The student trustees meet with their committees and the full board three times each academic year. Jirik, who served from the fall of 2016 through the spring of 2018, met with the finance committee to evaluate the schools' endowment standings and in general assess all the financial aspects of Rhodes. He says he appreciates the transparency that student trusteeship allows and the direct communication between students and the board. "What interested me about becoming a student trustee was the idea of being able to see both sides, and being able to relate what's going on to the students. It's been an opportunity of a lifetime; very few schools have this kind of student trusteeship."
In the classroom, Jirik was immersed in the theoretical principles behind how business works, with a particular interest in data analytics. "One of my favorite things about the business department is that they're not your traditional academics," says Jirik. "Having worked in the business world before deciding to teach what they love, the professors provide real-world, first-hand experience, as well as academic experience."
Jirik decided to obtain "real-world" experience himself, and secured an internship with AutoZone, an international company headquartered in downtown Memphis. He began working in AutoZone's internal audit department in the summer before his senior year, assessing the efficiency of the various company controls by testing the accuracy and completeness of the financial statements. The internship was so successful, he returned to AutoZone for his spring semester.
This fall, Jirik will begin working toward a master's degree in accounting at Rhodes. Having gained a solid grounding in theory during his undergraduate years, the master's program will provide the nuts and bolts of the everyday inner workings of business. "When you're able to understand both of those aspects, you have insight into what's going on in both the micro and macro landscape of business," says Jirik. "My classes at Rhodes have well prepared me for that future."
By Swaneeet Mand '18
You can hear directly from Will about his journey at Rhodes in the video below.