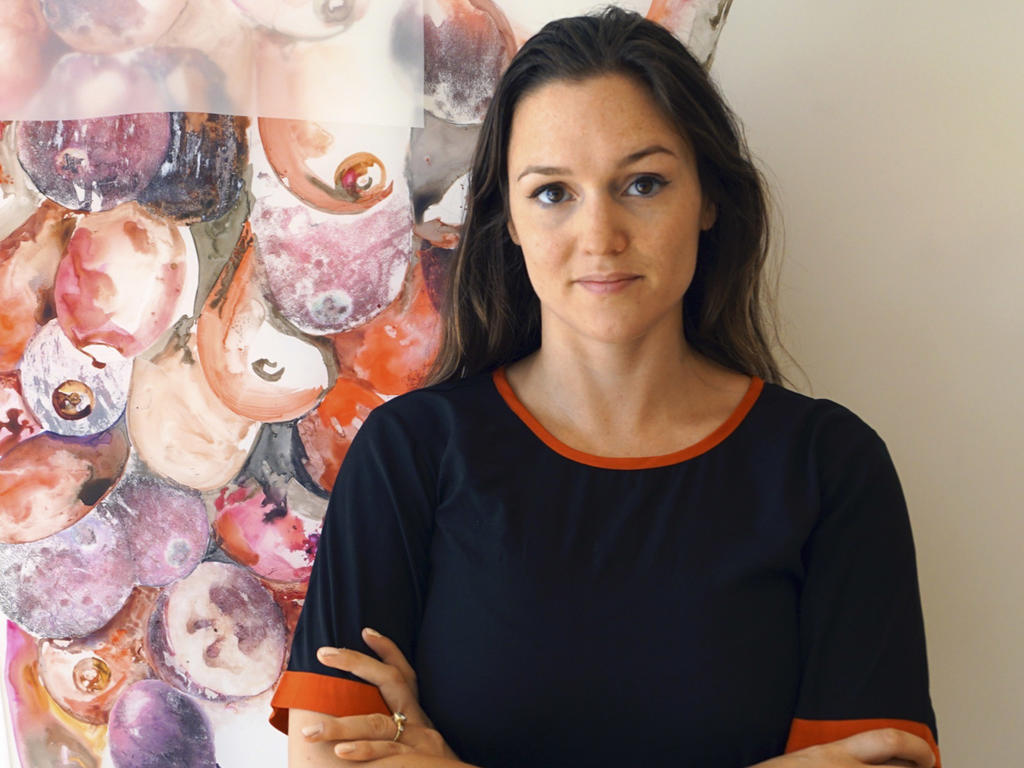 October 26, 2017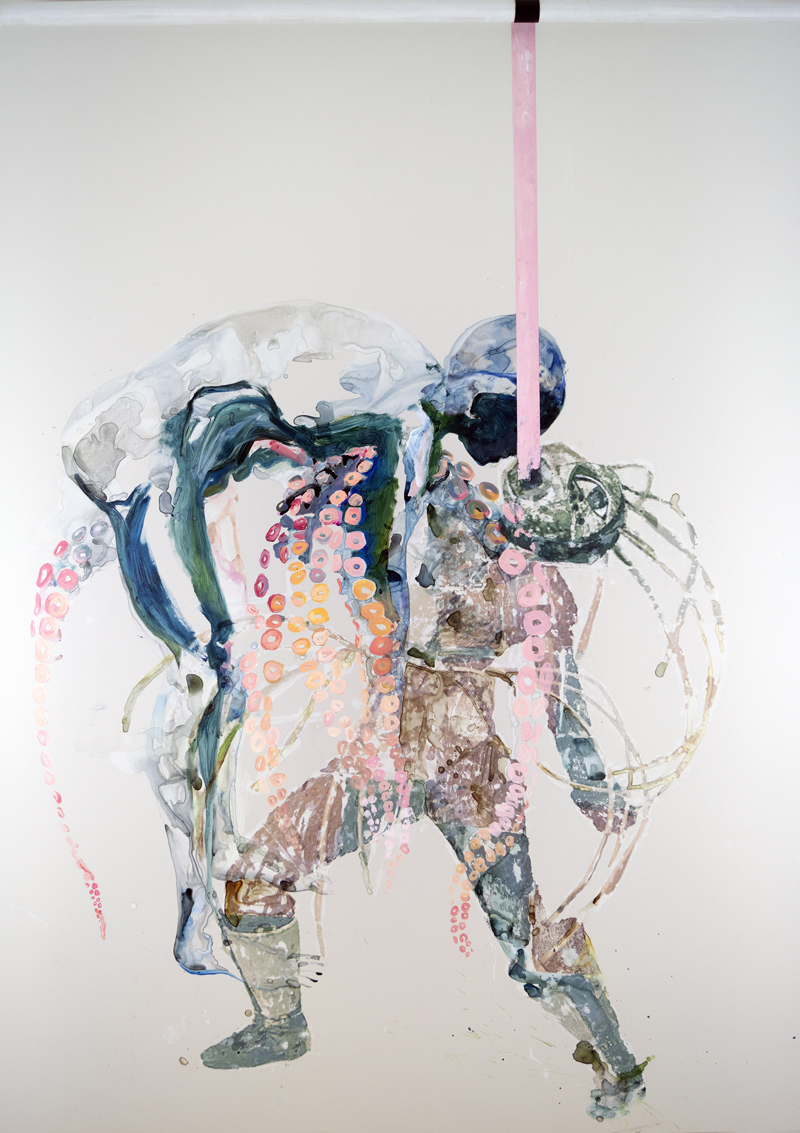 Alexandra Carter is an artist working primarily in painting and drawing influenced by print media, collage, and performance. She sources her personal background (she was raised on a cranberry farm in New England) as well as literature, especially that of women using both word and image (the artist has devoted consistent research to the surrealist Unica Zürn's anagram poetry and automatic drawings). Involving themes such as gender, storytelling, and masquerade, Carter's media emphasize a visceral mark or refer back to the body in some way--using watered-down pigments to create fluid puddles on the plastic surface of drafting film, or even cranberry juice, creating a staining effect onto antique linens. Her subject matter derives from a large archive of images which she collects and also creates from her own performances. Sometimes she prints these images directly into her paintings using various transfer methods.
Carter received a B.A. in Studio Art from Rhodes in 2009, a Post-Baccalaureate Certificate in Fine Art from Maryland Institute College of Art in Baltimore, MD, and an MFA in Fine Art from Goldsmiths University of London. In 2016, Carter was selected for residency projects at KulturKontakt Austria (Vienna, Austria), Qwatz (Rome, Italy),Graniti Murales (Graniti, Sicily), Vice~Versa Foundation (Goa, India), and RECSIM (Jashipur,India). Other residencies have included Projecto'ace Foundation in Buenos Aires, Galerija-MuzejLendava in Slovenia, and the Kentucky Foundation for Women. Solo exhibitions include "Pickling Fat Souls in Sugar" at Southfork Gallery in Memphis (2015), "Drift" at Projecto'ace Foundation in Buenos Aires (2011) and "Brooks Introduces" at Memphis Brooks Museum of Art (2009). Group shows include On the Ground Floor (Los Angeles), Red Gallery (London), Hyperlink Gallery (Chicago), 808 Gallery (Boston), Coos Art Museum (Oregon), and Athens Institute of Contemporary Art (Georgia). Her work is currently featured in "In Conversation: Celebrating 100 Years of Women at Rhodes." Carter currently lives and works in Los Angeles, California.
We asked Carter which courses at Rhodes impacted her the most, and how her time at the college prepared her to meet her career goals.
"I transferred from another school my sophomore year and already had a lot of art education, so my first class was Intermediate Painting with Erin Harmon. This class was incredibly important because it came at a time, the only time in my whole life this happened, when I questioned whether I should be an artist. I was considering majoring in something besides art, thinking I would always continue making art, but maybe I should make use of my college education in another field. In this first class with Erin I was able to establish a relationship with her, one that I have held very valuable ever since. She challenged me a lot—my confidence went up and down a lot in my own artmaking, and got shot down more than ever before, which was really important. Erin was tough on me at first, but made me realize that I was still in the game even through these challenges, even though I was being questioned and pushed to do more in the content of my work, I loved that game. So it was an easy decision I made by the end of my first semester to declare my major and switch to Erin as my advisor. And so I set my path and put art first before all else.
"I wasn't the best all-around student in that sense. I did as little math and science homework as I could to get by, and saved all my energies for art, art history, and the humanities classes that I sensed were training me in a way that would support my work (any course that involved a lot of writing and discussion I saw as fair game for fodder). This was why I loved being in a liberal arts rather than art school. I believe in that well-rounded education, and the critical thinking, theory, and history I garnered from non-art classes was still an important part of what I was doing. Also, the ability to prioritize and balance non-art responsibilities with art is part of life as an artist. So getting acquainted with a sense of that balance and how to achieve that, even while still in school, is important."