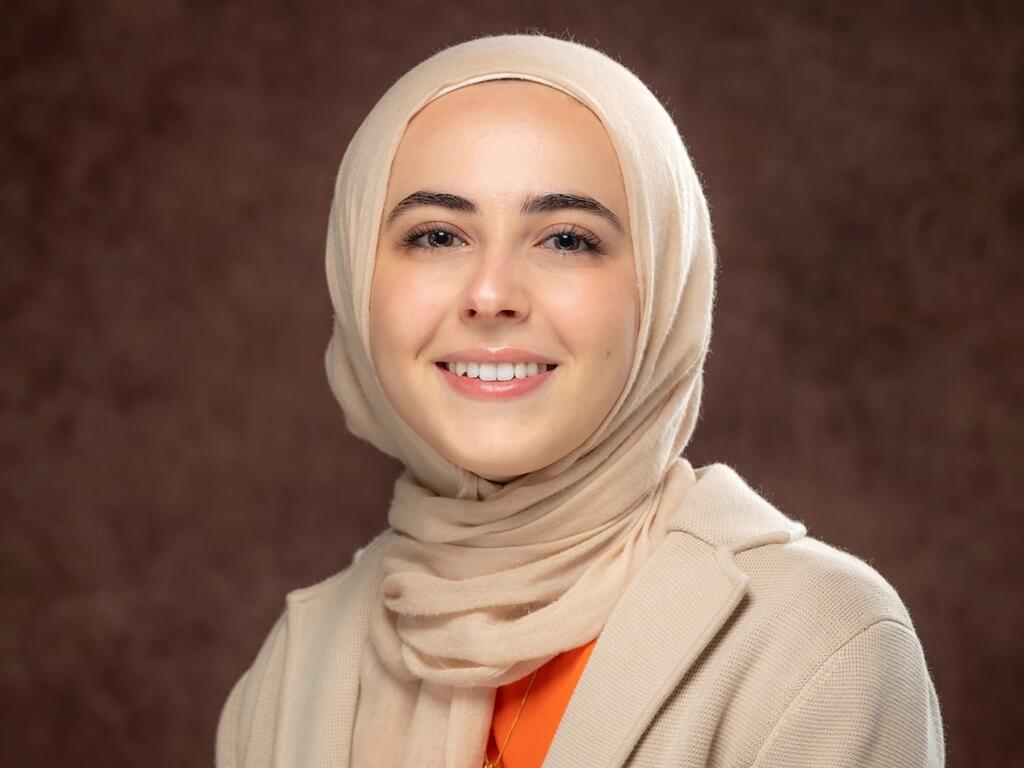 November 13, 2023
Mariam Khayata, who graduated from Rhodes College in 2022 with a Bachelor of Arts in International Studies and Political Science, is one of 32 individuals chosen from the United States as a Rhodes Scholar. The announcement was made by Ramona L. Doyle, American Secretary of the Rhodes Trust, on Saturday, Nov. 11. Khayata will pursue a Master of Philosophy in Modern Middle Eastern Studies at the University of Oxford in England beginning October 2024. She is the eighth Rhodes Scholar from Rhodes College.
Rhodes Scholarships were created in 1902 by the will of Cecil Rhodes and are provided in partnership with the Second Century Founders, John McCall MacBain O.C. and The Atlantic Philanthropies, and many other generous benefactors. The scholarships are the oldest of the international study awards available to American students and provide two or three years of study at Oxford. Applicants must be endorsed by their college or university.
Selection is based on academic excellence; great ambition for social impact and an uncommon ability to work with others to achieve one's goals; commitment to make a strong difference for good in the world; concern for the welfare of others; and great promise of leadership.

The 32 Rhodes Scholars (from a pool of 862 applicants) selected from the United States will join an international group of Scholars chosen from more than 70 countries from around the world.
"Mariam was a shining star on campus and in our community, and this honor is richly deserved," said Rhodes College President Jennifer M. Collins.
Khayata currently works as an education coordinator at American Lebanese Syrian Associated Charities, the fundraising and awareness organization for St. Jude Children's Research Hospital. She also is the executive director of Memphis-based Muslim nonprofit 901 Ummah that works to bring young Muslims closer to their faith. During her time at Rhodes College, she served as chair of the Rhodes Student Government's diversity and inclusion committee and successfully advocated for the creation of interfaith prayer spaces on campus. In addition, she was a Clarence Day Scholar and worked in the development office as a digital content associate. Khayata was inducted into Phi Beta Kappa and the Rhodes College Hall of Fame.
"When Mariam graduated in spring 2022, she was beloved by students and faculty alike. Mariam has a wonderfully agile mind and joyful sense of wit. She is uncommonly centered and well grounded. Her balance, steady character, and clarity of thought is what doubtless makes her such a phenomenal and much-admired leader. An amazing presence, Mariam will be extraordinary as a Rhodes Scholar," said Dr. Jason Richards, co-director of postgraduate scholarships.
"All praise is to God who made this possible," said Khayata. "I have a world of people to thank—my family, the Memphis Muslim community from Pleasant View School to 901 Ummah to MIC, Rhodes College, and the ALSAC Global team. I am the product of the generous time and love good people have invested in me and I am forever in gratitude. My four years at Rhodes College had a profound impact on me. My international and Middle East studies classes inspired me, challenged me, and equipped me with hope that it is possible to make meaningful change for our world. Rhodes Student Government taught me the meaning of service and how to turn big ideas into school-wide policies. Special thanks to the Muslim Student Association, VOICES, the Clarence Day Scholars, and Chaplain Beatrix who made Rhodes College feel like home.  This opportunity would not have been possible without the generous advice and support of my mentors and recommenders Dr. Esen Kirdis and Dr. Jason Richards along with my professors and Rhodes letter-writers Dr. Amy Risley, Dr. Etty Terem, Dr. Erin Dolgoy, and Chaplain Beatrix. I owe thanks to every individual at Rhodes College from my friends and classmates to alumni and the administration. I pray this opens the door for a world of Rhodes College students to become Rhodes Scholars."