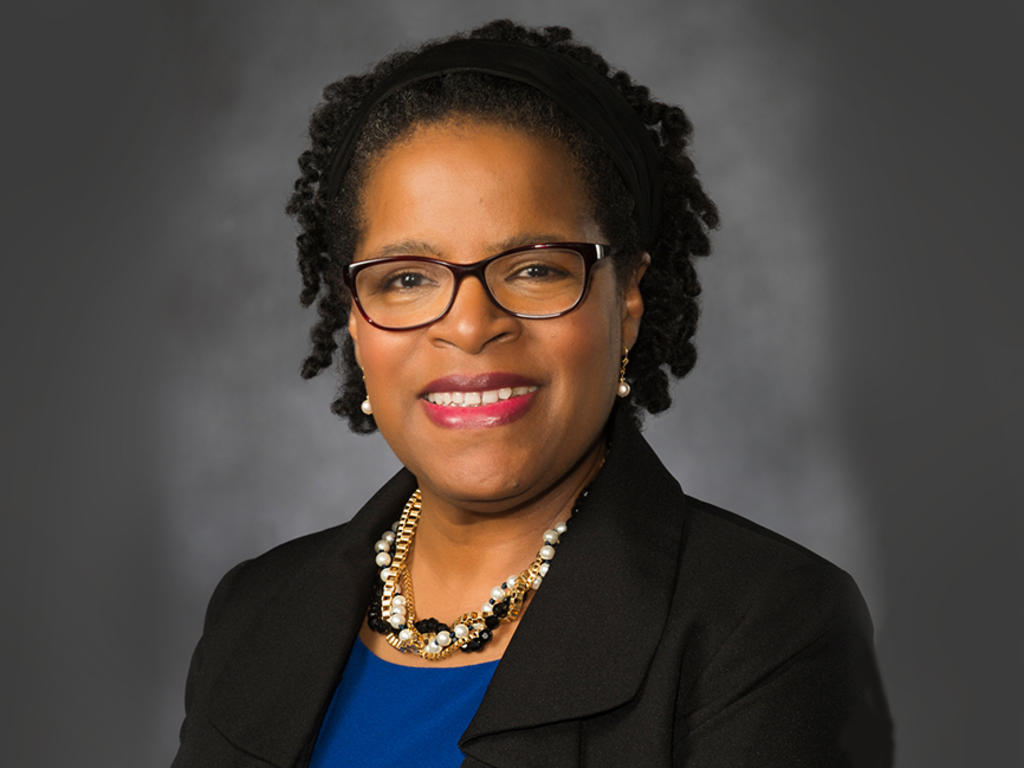 December 03, 2019
After a competitive national search, Rhodes College president Dr. Marjorie Hass has appointed Dr. Katherine Clay Bassard as Provost and Vice President for Academic Affairs effective July 1, 2020. 
"I'm pleased to announce Dr. Katherine Bassard as provost and vice president for academic affairs. Her leadership experience and accomplishments show her passion for the power of a holistic education that centers every student. This experience will serve Rhodes well as she enhances the teacher-scholar model that lies at the heart of the college," says President Hass.
Dr. Bassard currently serves as interim senior associate dean for faculty affairs in the College of Humanities and Sciences at Virginia Commonwealth University, following two years as senior vice provost for faculty affairs. As senior vice provost, she was chief administrator for more than 2,000 full-time and 1,000 part time-faculty on three campuses, building interdisciplinary collaborations across departments, schools, and campuses.
"I feel a deep alignment between Rhodes College's mission as a residential liberal arts college serving a talented and diverse student body and my own values as a teacher, scholar and administrator," Bassard says.  
"As a first generation college student, the liberal arts education I received at Wake Forest University instilled a deep love of learning and of academic rigor which became the foundation for my journey as a teacher, scholar and academic leader. I am excited to find a similar commitment to liberal arts education at Rhodes."
Her comprehensive past administrative achievements align well with priorities of the provost set by the college, including implementing a new strategic plan alongside vice president of strategic initiatives Dr. Sherry Turner, championing diversity and inclusion efforts, and supporting faculty development, leadership, and curriculum development. Bassard will also work with the newly appointed vice president for student life, Dr. Meghan Harte Weyant, and her divisional staff to provide the best possible holistic learning experience for Rhodes students.
"I look forward to working with Dr. Bassard to implement the priorities identified in our new strategic plan and to create a more inclusive culture at Rhodes. She brings a wealth of expertise as a professor, scholar and administrator that will be an asset to the college as we continue our efforts to foster a culture of belonging and build upon the foundation of academic excellence that has been the hallmark of a Rhodes education for generations," says Dr. Turner. 
Bassard will also serve as professor of English and Africana studies. After earning a B.A. from Wake Forest University, an M.A. from Virginia Commonwealth University, and a doctorate from Rutgers University, Dr. Bassard began her academic career at University of California- Berkeley in 1992 and most recently has served as chair and professor of English at VCU.
Throughout her career, Bassard has studied African American literature and culture, particularly the recovery of the voices of black women that have been silenced, appropriated, or misrepresented. Her dissertation focused on early black women preachers and religious writers, which served as the framework for her first book, Spiritual Interrogations. She has published two additional books: Transforming Scriptures, the first monograph study of black women writers' engagements with the Protestant English canon of the Bible, and recently the first edition of the autobiographical writings of Peter Randolph, a Virginia ex-slave who was relocated with his entire plantation cohort to Boston. 
In addition to her three books, Bassard has published a host of articles in peer-reviewed journals. 
"Dr. Bassard brings a wealth of experience with her to Rhodes. Her ability to advance and promote the teacher-scholar model, so dear to Rhodes, will strategically position us to produce the next generation of world leaders who are capable of translating their liberal arts education into meaningful service, constructive social advancement, and transformative scientific developments to society. Dr. Bassard will be a great asset in the implementation of the new strategic plan and refining the edge our students gain at Rhodes thanks to transformative teaching and mentorship," says search committee member and assistant professor of chemistry Dr. Shana Stoddard.
"Dr. Bassard is an influential scholar who comes from a liberal arts undergraduate background and is guided by a philosophy of collaborative leadership. The search committee found her to be especially impressive in the way she approaches collaboration between faculty and administrators when making difficult decisions, and honoring institutional history while still recognizing the need for change. We were impressed by the depth of her experience and her thoughtful approach to the questions facing Rhodes," says search committee member and professor of English Gordon Bigelow.
The appointment is the result of a national search led by a campus committee composed of faculty, staff, and students. The college retained higher education search firm Storbeck/Pimentel and partner Dr. Sue May to assist.