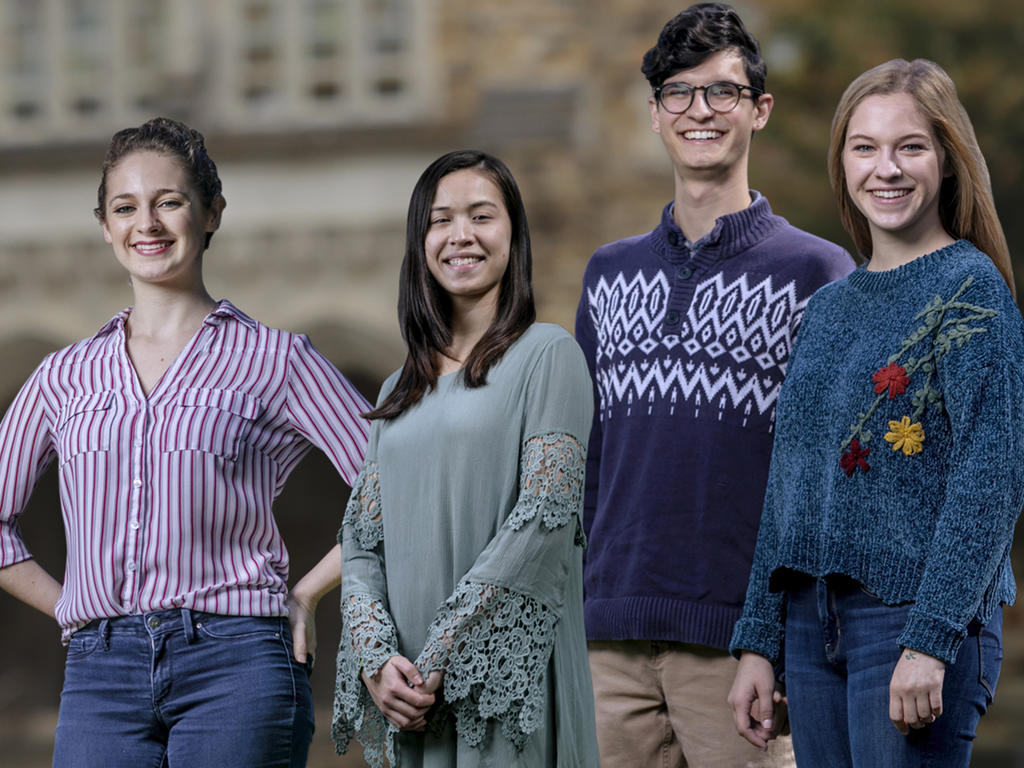 November 20, 2018
Four students use summer fellowships to explore amazing opportunities in wide-ranging musical fields, while two others—one an alum, one still in school—join forces to make their dreams a reality.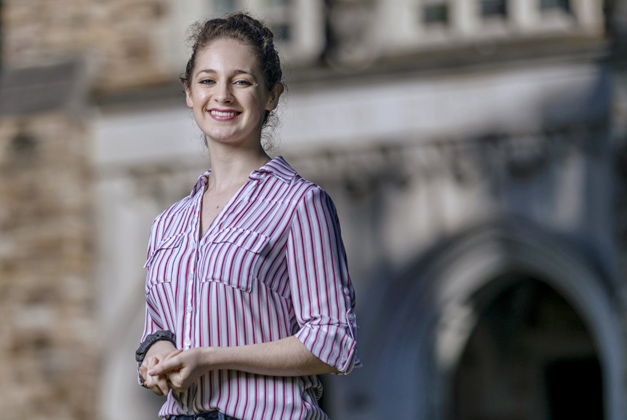 Cameron Crawford '19 is a music major, a dancer, and a singer, who dreams of one day having a successful career in musical theater. With the help of her advisor and voice professor Dr. Carole Blankenship '85, she applied for a Rhodes Fellowship to attend the aptly-named Broadway Dreams, which offers programs of strenuous professional theatrical training. The fellowship covered her tuition and travel expenses for two back-to-back week-long intensives in Charlotte, NC, and Philadelphia, PA.
During her classes, she worked with musical theater professionals who are currently or formerly performers on the Great White Way. The sessions ranged from on-camera work with TV actors to jazz dance to storytelling through song.
"The first week I performed in three pieces. My favorite music performance was singing a high soprano solo that went up to a high D. The second week I was in four pieces, one of which was a dance piece I had been in the week before, which was definitely my favorite. It was a very emotional piece of choreographed storytelling, and everyone in the cast had a very personal connection to it," she says.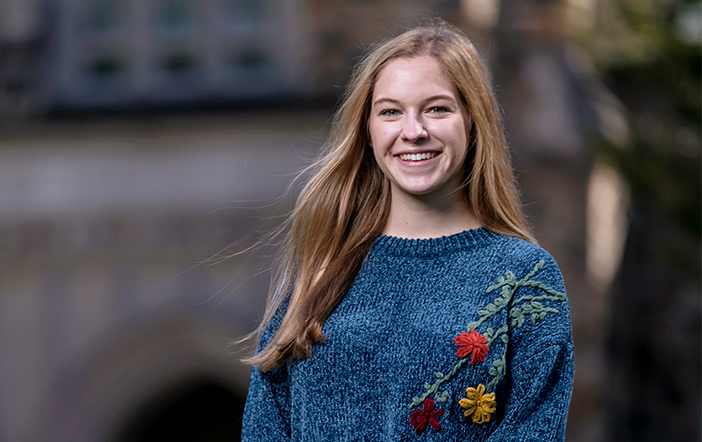 Isabel Celata '19 had long dreamed of studying abroad during the summer before her senior year. The double music and political science major researched programs with the help of Dr. Carole Blankenship and applied for a fellowship with the encouragement of music history professor Dr. Vanessa Rogers. Celata was happy to find the funding for her adventure through both the Ruth Sherman Hyde Award in Music, offered to one rising senior every year, and a summer fellowship.
"The combination of the two awards fully covered the expenses for my summer abroad, allowing me the opportunity to learn and grow without financially burdening my family," she says.
Celata attended Prague Summer Nights Young Artists Festival, a month-long opera festival in the Czech Republic. She spent two weeks in a small town outside of Prague and two weeks in Prague itself. While at the festival, she took voice lessons and language diction classes, had a private lesson with the head opera coach of the Czech National Theater, and attended masterclasses with renowned opera singers Lawrence Brownlee and Rosalind Plowright.
The highlight of her trip was the performance opportunities she enjoyed: "I performed a scene from the Czech opera Rusalka, sang in a musical theater cabaret in the same nightclub that Bill Clinton once played his sax in, and performed a role in Mozart's opera Die Zauberflöte in the Estates Theater, the only still-standing building that Mozart himself conducted in. The experiences that I had while at Prague Summer Nights were incomparable, and I would not have been able to have them without the generous funding Rhodes provided."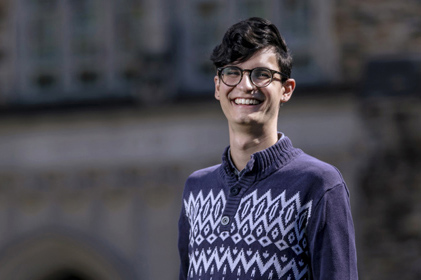 Chandler Hall '20 dreamed of going somewhere and doing something that no other Rhodes student had done before. His scholarship to Rhodes included funding for a fellowship, so he worked with Dr. Vanessa Rogers to design the one-of-a-kind Boughton House Music Archival Internship, which incorporated aspects of his double major in music and history.
"My interest lies in music history, and Dr. Rogers knew the right people to connect me to an amazing music collection in the English East Midlands," he says.
His internship took place in the United Kingdom, at the main estates of the Duke of Buccleuch—Bowhill House, Drumlanrig Castle, and Boughton House. Housed at Boughton is the Montagu Music Collection, compiled in the 18th century by members of the Montagu family.
 "Music played a large role in the home life of the Montagus, and they also supported composers and musicians with commissions," explains Hall. "My role was to catalogue the contents of miscellanies, which are bound compilations of random pieces, sort of like a hard copy playlist."
During the last week of his internship, Hall traveled with the Duke's archivist to Bowhill House and Drumlanrig Castle to gather materials for the 2019 annual summer exhibition at Boughton. The exhibition theme changes each year; in 2019, music will take center stage.
"Understanding the peerage system of the British aristocracy took some time and seemed at odds with the American ideal of the self-made person," he says. "But I thoroughly enjoyed working in these homes. I was constantly surrounded by art. And my fellowship fit right in with my career goals and my future plans to attend graduate school, either for musicology or archival studies."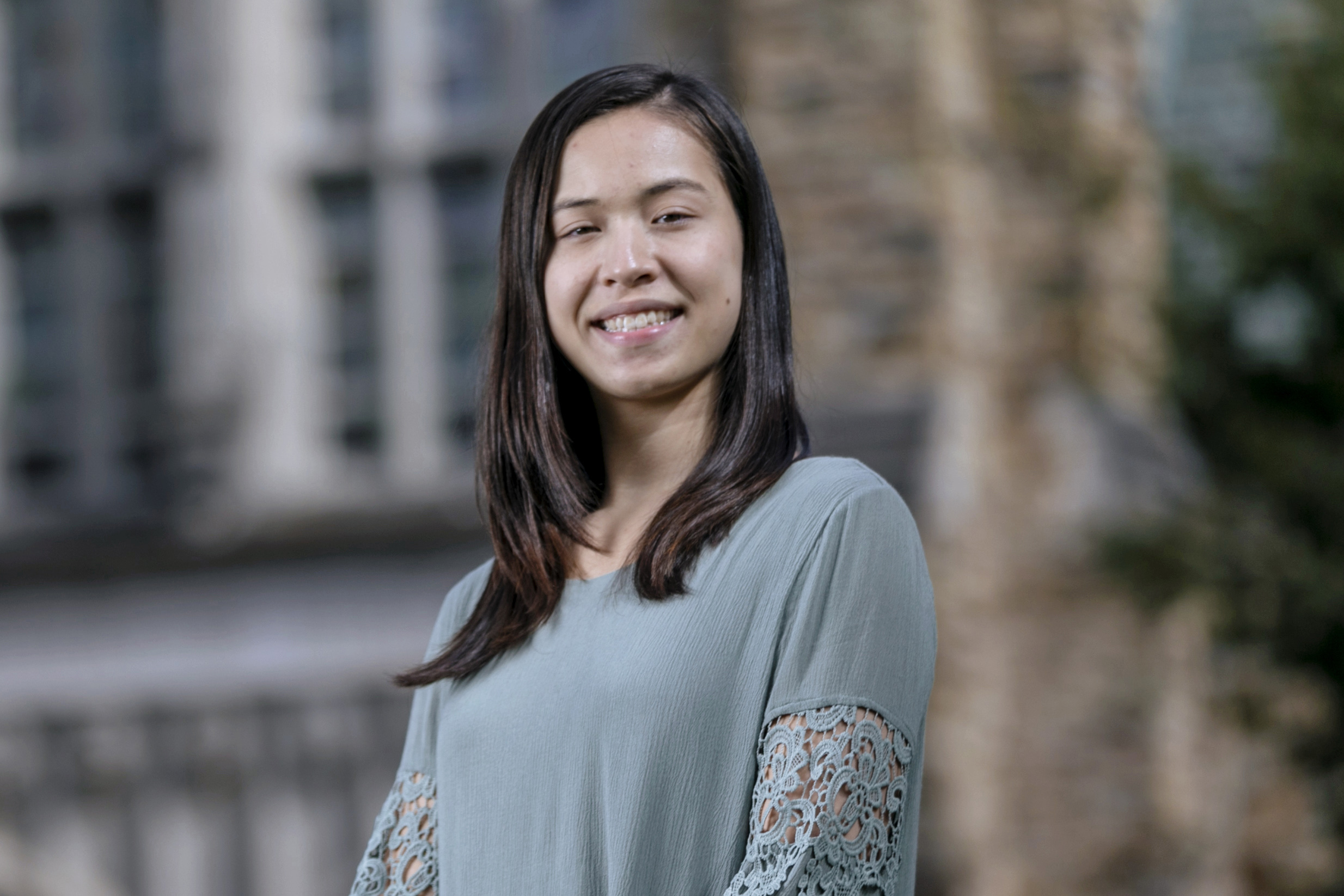 Camila Zimmerman '19 dreamed of finding a study abroad program that would complement her double major of music and Greek and Roman studies. Dr. Vanessa Rogers suggested that she create her own fellowship, and the resulting Classical Stories Fellowship worked perfectly for her.
"I went to London and spent about a week and half there on my own," says Zimmerman. "Every day I went to a Reading Room in the British Library and spent a few hours reading books that were applicable to my Senior Seminar paper for each major."
For music, she studied Christoph Willibald Gluck's opera Iphigénie en Aulide, comparing the original myth of Iphigenia to the opera and discovering ways to illustrate both the masculine and feminine qualities of the character. For Greek and Roman studies, she researched the Emperor Nero and how his performances as a musician and actor affected his people's opinions of his rule.
Zimmerman also enjoyed a taste of all London has to offer, exploring the city and surrounding areas whenever she could—though she says her biggest challenge was navigating her way around the sprawling city. She visited the Tower of London, the British Museum, Salisbury Cathedral, and Stonehenge, and especially appreciated three musical performances— Mozart's Cozi Fan Tutte at Opera Holland Park, Handel's Acis and Galatea at Wigmore Hall, and a vocal recital of Hugo Wolf's works.
"I loved every aspect of my time abroad," she says. "I'm so grateful for this opportunity to learn and spend time in the amazing British Library, and the performances I went to were a highlight of my trip."
Richard "Roc" Sherrell '17 and Raneem Imam '20 met while working on a song for McCoy Theatre's 2016 fall show Candide. Imam was a freshman experiencing her first Rhodes production, and Sherrell was a senior recruited to compose and produce all original songs for the production. The two worked together on a short piece for Imam to sing in the final act.
"During our sessions, Roc and I were instantly vibing and the energy was so present. We both knew we had to work together and produce a project of our own," says Imam.
"We met up a few times to collaborate on tracks, and after a few really great sessions we made the decision to formally link up and form our duo 'I Contact,'" says Sherrell. "We spent the first six weeks of the spring semester in 2017 creating, producing, and recording our first EP, titled Dialogue."
Next the duo shot a music video for a single from the EP, "No Escapin'," which highlights the arts and culture of Memphis. The video showcases Imam's beautiful soprano and Sherrell's rap skills. Their sound can be described as a mixture of R&B, hip-hop, and electronic music.  
After graduation, Sherrell moved to Chicago where he works with a creative agency start-up that creates and produces custom apparel. He's also cultivating a studio space of his own and expanding his personal music catalog. He returns to Memphis to perform with The Flying V's, an alternative rock and hip-hop band made up of five Rhodes alumni—Sherrell, Jay Clinton '16, Ladd Caballero '16, Brad McCullough '17, and Cullen Williams '17.
As her senior year draws closer, Imam is beginning to plan for a career in the studio: "As much as I love performing and singing for an audience, the production side of music has swept me off my feet. I love everything there is to do with a studio. I love being surrounded by artists in the studio. I can stay for hours and hours, not looking up to check the time." Since last spring, she has been learning the ropes at Willie Mitchell's Royal Studios—the historic South Memphis studio known for recording works by artists such as Al Green, John Mayer, Buddy Guy, and Rod Stewart.
In spite of the physical distance between them, they both believe their best days of creativity together lie ahead. They are growing and honing their craft on separate projects, but "I Contact" is still very much a duo.
"I truly believe our partnership does not have an expiration date. We both love working together and, as soon as the perfect window hits, you know we will get to work," says Imam.