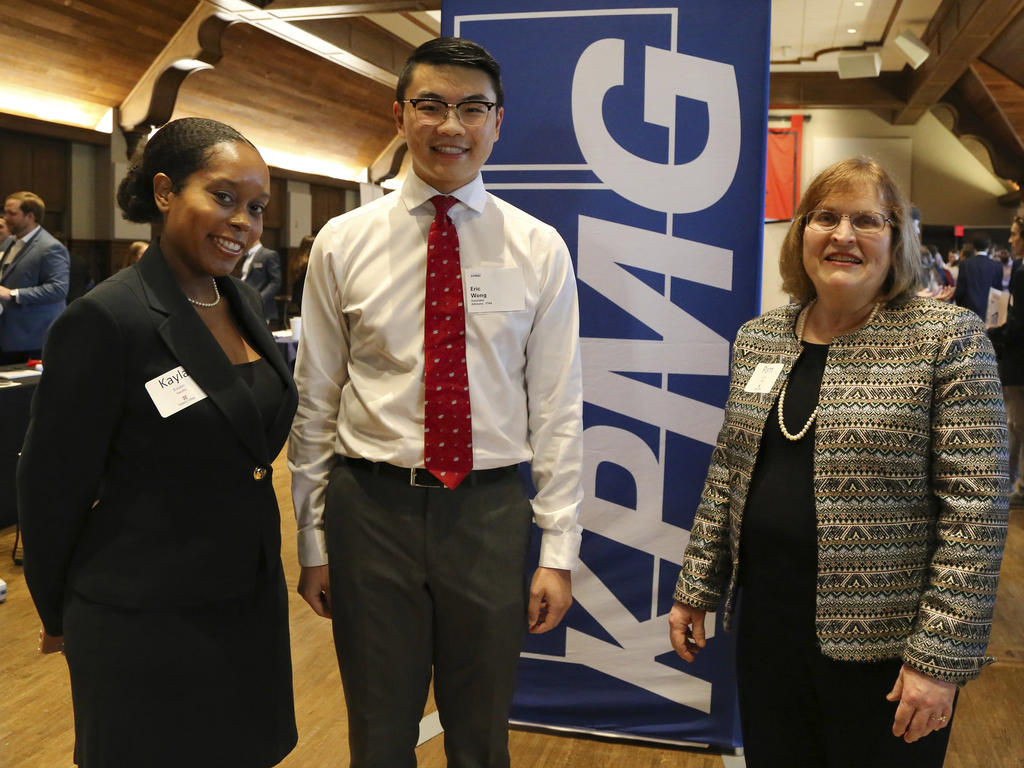 November 19, 2018
In 1993, Rhodes began offering a Master of Science in Accounting to help business majors wishing to sit for the certified public accountants exam fulfill the needed requirements. With only six students at its inception, the master's program has just celebrated its 25th anniversary and routinely graduates about 25 students a year. For each of its 25 years, the program has boasted a 100 percent placement rate for graduating students.
Today, accounting is a constantly changing field, incorporating more and more data analytics and adapting to new standards, tax codes, and laws. So although students who complete the master's program typically become CPAs and often begin taking the four-part CPA exam while completing their courses, the program also prepares students for careers in investment banking and consulting and corporate work. 
According to Dr. Pamela Church, director of the M.S. in Accounting Program, about 75 percent of the program's graduates are hired by the Big Four firms—Deloitte & Touche, Ernst & Young, KPMG, and PricewaterhouseCoopers. Church notes that it's rare for these firms to recruit from smaller, liberal arts schools, making Rhodes' students the impressive exception to this general trend. In just the last three years, graduates of the program have ended up in cities such as Atlanta, Dallas, Nashville, New York, Houston, San Diego, San Jose, Los Angeles, and, of course, Memphis. 
"The program trained me to think critically about complex situations and to confidently participate in discussions. As early as a first-year associate, I am able to provide firm leadership with thoughtful recommendations to the complex situations our clients face."

                                                — Eric Wong '16, KPMG

                        IT Advisory Associate
Many Rhodes students secure internships at prestigious accounting firms, banks, and corporations during their undergraduate years, then line up internships for the summer before the master's program, all of which helps to build strong relationships between students and prospective employers. Chase Couch '04, a senior manager at Ernst & Young, completed a long-term internship for the company while enrolled in the master's program. "I was most impressed with Dr. Church and the accounting department's willingness to allow me some flexibility with the program's curriculum while exploring opportunities with accounting firms. Their willingness to accommodate one student says a lot about Rhodes overall, and the college's commitment to the development and success of each individual student." 
Church says that Rhodes graduates are sought after because of their liberal arts backgrounds, combined with their solid business and technical accounting skills. "They provide the whole package," she says. "Employers tell us that they like our students because they can think critically and communicate effectively." In fact, the CPA exam itself has recently changed to include more writing and critical thinking skills.
Bill Hopp '14, an audit senior at Deloitte, agrees. "Instead of teaching students to memorize data, Rhodes prepares students on how to approach problems. Because of this, I am equipped with the tools I need to analyze a problem and present my solution with confidence to an engagement team or directly to the client."
Shannon Todd '16, who works in IT at PricewaterhouseCoopers, adds, "The master's program at Rhodes helped build a strong foundation for a job in which I was not quite using my accounting background. Having worked on the IT side of projects the last two years, I have been able to bring an element that is different from most of my team members—I can look at issues with a lens for financial statement risk with the incorporation of IT systems. It has made it infinitely easier to work with the core teams and understand their objectives when we work together on projects."
Meet the Firms is a national tradition and the primary event each year for business and accounting students to interact with employers. Rhodes' event annually attracts up to 20 different companies with up to 70 representatives. "Many of the representatives from the companies are our alums," says Church. "It's nice to see the cycle, where our graduates go out, get responsible positions, and come back and to Rhodes and recruit our students."
—By Katherine Hancock '19