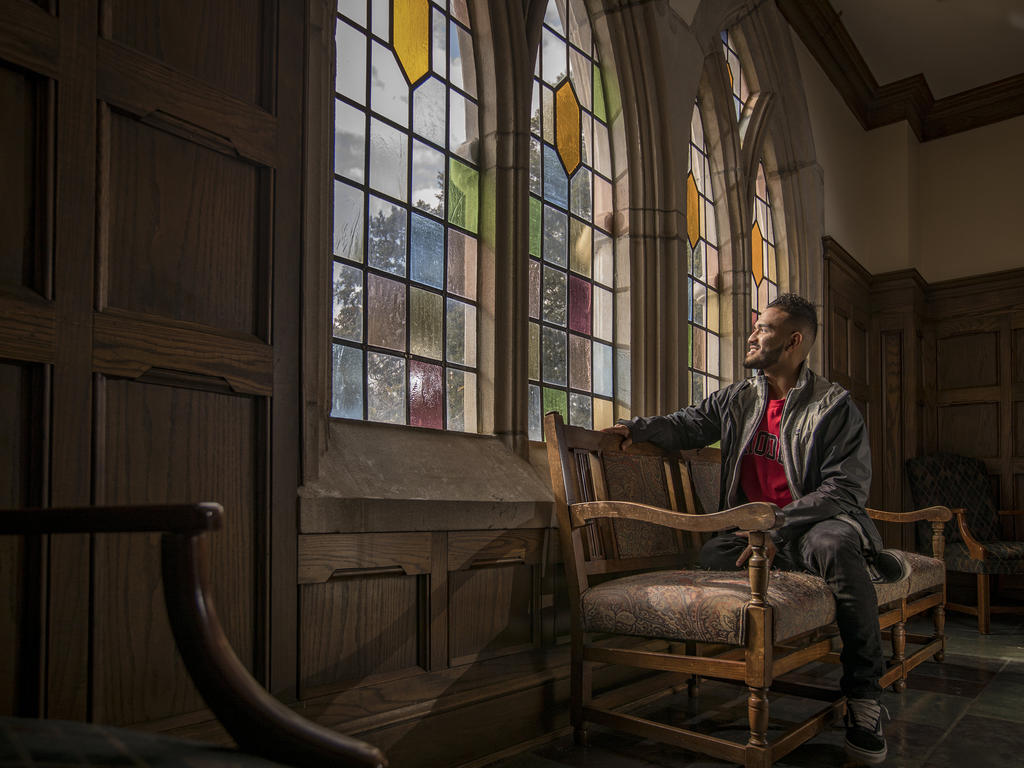 March 31, 2020
As Rhodes College looks to the future, it continues to educate students to thrive outside the classroom.
By Samuel X. Cicci '15
What do students aim to get out of the classroom experience? Perhaps it's a deeper understanding of myriad subjects, a comprehensive look at the many fields of academia. To others, it's acquiring a diverse array of skills geared toward professional leadership and effectiveness in the workplace. Both are admirable, but the best utilization of such goals is to synthesize both schools of thought. As Rhodes College prepares to enter the next decade, its new Strategic Vision has students ready to set off with the tools to change their communities.
The ten-year plan, approved unanimously by the Board of Trustees in the fall, is set to span the decade from 2020 to 2030 and emphasizes the "Rhodes Edge" as three key attributes. It should leave students as "intellectually ready to tackle the world's most pressing problems; leadership ready to create equitable and prosperous communities; and career and graduate school ready to succeed in tomorrow's economy." Through improving the undergraduate experience, students, faculty, and alumni will be more likely to invest in the institution's future.
To make this happen, Rhodes has four areas of focus that will guide the vision over the next decade. The first, bolstering academic excellence, comprises faculty hires, study abroad and local internship opportunities, a renewed drive to improve interdisciplinary centers modeled after the Lynne and Henry Turley Memphis Center, strengthening the fine arts programs, and improving the pre-medical track, which accounts for about 40 percent of Rhodes' applicant pool each year.
The second focus, fostering a culture of belonging, encompasses building a diverse student culture that continues to engage in community service projects within the Greater Memphis Area. Additionally, students should leave with a deeper commitment to the school and a greater sense of school spirit. Part of that drive includes improvements to the school's athletic programs, as well as more intramural sporting and fitness options.
Third, ensuring a transformational student experience, stresses a residential experience that provides the best platform for new students to grow. That includes more community events for incoming students and more opportunities to interact with faculty who are part of their fields of interest. On the more professional side, the school will implement a new four-year plan at Career Services to prepare students for careers after school.
 The final focus is to secure the school's future. The Strategic Vision pushes the school to find new revenue streams, sustain its workforce, tell the Rhodes story both locally and nationally to invite more philanthropic investment, cultivate community partnerships, and create a new master campus plan. Overall, the four focus areas will provide a much richer undergraduate experience for incoming students. To truly hone the Rhodes Edge, that means starting the process immediately in a way where students can learn and grow organically.
"Many of our students arrive without having an idea of what they want to major in," says Rhodes College President Marjorie Hass. "When it comes to making that decision, we're really unique in two ways. First, our curriculum is built so that a student doesn't need to choose a major until the end of their sophomore year. It means students have the opportunity to explore their interests broadly at the beginning of their time here. And they can get faculty advisors to guide them on a path that excites them without being forced to narrow these choices.
"The second is that when declaring a major, students have to write a statement about why this is an exciting field for them," she continues. "We really see this choice as a big decision, not because we think it determines a student's career choice, but because it's our students' way of coming to learn more about themselves, about their unique contributions, and what way they want to change the world."
That freedom to choose is something Hass points to as critical to honing the Rhodes Edge. Many subjects that are encountered in a college setting aren't normally available in high school. Hass points to the fastest-growing majors like public health, computer science, urban studies, and neuroscience; skills from a secondary school education don't directly translate to fields like the aforementioned, and asking students to choose a track too soon could close pathways prematurely. After being helped through the initial process, Rhodes students have a better sense of what they are passionate about.
One of the most important aspects of the Rhodes Edge is that it doesn't keep the primary focus exclusively on classroom lessons. "The old model of college being a refuge from the real world is just that — an old model," says Hass. "Students today are hungry for a much more integrated form of education. So at Rhodes, students are preparing for life after college the day they arrive." Theoretical studies are mixed with practical, hands-on learning like laboratory research or participation in a campus literary magazine. But the final stroke of the Rhodes Edge is to encourage students to take the skills they've learned to organizations off-campus.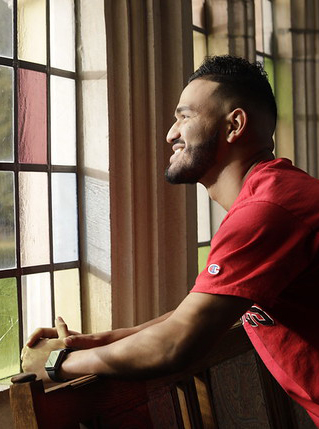 For Dorian Canales '20, his journey through the economics major led him to pursue an internship with FedEx Express. Having moved to Memphis from Tegucigulpa, Honduras, at age seven, he grew up in the Mid-South and graduated from Christian Brothers High School before earning a Bonner Scholarship to attend Rhodes. While searching for outside opportunities, he came across an available position in FedEx's engineering and technology department. Over a three-month period, he dove into his work, bringing a fresh perspective and new ideas to the business that ended up saving the company both time and money. His first innovation included creating an Excel method to improve line distribution.
"The Excel method helped to reduce errors being made by teammates," says Canales. "The whole problem revolved around being unable to deliver the right lines to the right people. Before Excel, lines had to be updated manually, and people weren't always available to do that. The process saved time and allowed us to collaborate more effectively."
Beyond Excel, he created a SharePoint website which allowed for easier sharing of important documentation between workers, and installed new and expensive equipment that allowed for more efficient package scanning. While many interns might just do the work asked of them, Canales had learned to turn a more critical eye towards any problem he identified.
"I'm really focused on the analytical aspect of economics," he says. "Having analytical tools and an analytical mindset will help you in any industry. This was especially helpful at FedEx because I encountered different challenges on different projects that required me to approach them in a critical way."
While the Excel method he implemented vastly improved the day-to-day operations at FedEx, the groundwork was laid in his statistical analysis class with Dr. Nick McKinney. "That's where we in the economics major really started to work with Excel," says Canales. "Working with the program in that class really helped me build the foundation for what I eventually created at FedEx."
Canales also bolstered his portfolio after being accepted to the Harvard Business School Summer Venture in Management program. With a personal motto of "why not," there was no reason for him to overlook the various opportunities for professional growth.
 "The resources are here at Rhodes," he says. "Then, you can take those outside the gates and reach for these competitive opportunities. Rhodes has really helped me develop a strong foundation and transferable skills to thrive in the industries I'm interested in."
Applying a critical approach to improve day-to-day at a Fortune 500 company like FedEx is impressive, but Rhodes students are making impacts in fields very different from business. New Jersey native Claire McGuire '20 was drawn to the liberal arts college for the abilities it had to connect her with opportunities off-campus.
          "I knew I wanted to attend a liberal arts college after attending a big high school," says McGuire, "and I appreciated the internship and research options they have around here, the study abroad programs, and the personal connection you can build with professors." After taking Intro to Environmental Sciences her sophomore year, she knew that was the field for her.
The summer before her senior year, McGuire used funds from winning the Rosanna Cappellato Award in Environmental Sciences to develop a study to research another issue very Memphis-centric: the Wolf River. 
"I'm currently doing an anthro-pogenic impact study on the river and looking at how humans have influenced it: What nutrients are we putting into it, what's the level of microplastic pollution?," she says. "Really, we're looking for different human markers. There's a lot of plastic in the river, and then when you get farther out there are different nitrogen levels where there's more farming. It's not as pronounced as it is here, but you still have erosion and runoffs [from pesticides] in that area."
McGuire jumped at the chance to explore an issue that was both of interest to her and beneficial to Memphis. "This research has implications for how we can better protect the river and how we can mitigate runoff into it," she says. "If we're putting in a lot of plastic, nitrogen, or carbon, how do we alter that so the river can still be used recreationally by the people of Memphis?"
 To pursue her research, McGuire says she frequently drew on experiences and skills she picked up through class and labs at Rhodes. Techniques from the environmental science track prepared her to test water quality, acidity, salinity, and dissolved oxygen in the river, while Professor Patrick Kelly assisted on the project in an advisory role. "I've been working in his lab and having him help run tests and analysis," says McGuire. "He's been really helpful to bridge the gap between the classroom and what I wanted to do to create my own project."
 As she wraps up her project, McGuire is looking at marine science graduate options like Arizona State University, the University of Georgia, and the University of Maine. She says that she was alerted to some of her preferred Ph.D. candidacies due to professors sending her emails about openings around the country.
 "Because I've been able to build these relationships here, they know my interests, they know what I want to do," she says. "That's been helpful, and I'm thankful I had the opportunities through the environmental science program. It's really allowed me to build up my resume and has made me a much more well-rounded individual."
Canales' and McGuire's internship and research opportunities are just two examples of the relationships and projects Rhodes wants its students to cultivate. With 85 percent of the student body having had either an internship or career readiness experience, those opportunities makes Rhodes College graduates attractive to employers.
 "Our students are career-ready in that they have all the skills an employer would say they want," says Hass. "Rhodes is a dynamic place. This is not a passive static absorption of knowledge. These are classrooms where conversation is lively and intense, where they are used to having to pull their weight to help shape and make the experience. And so when a student leaves Rhodes and they go off to the world of work and they're asked to make a presentation at a meeting, they show up ready to go."
 Hass continues to view Rhodes' location in Memphis as a strategic asset for students. With access to top Fortune 500 companies, nonprofits, and NGOs, there are plenty of outlets for students to apply what they've learned as an undergraduate. As Hass and the school head into the next decade, every part of that process is equally important for maximizing a student's potential.
 "I hear over and over again from city leaders that they are impressed by the incredible impact they've seen from our students," she says". And when we think about the Rhodes Edge, we think it's the whole mosaic of experiences that a student has here that is what gives them that edge."
For more information about the Rhodes Edge, visit rhodes.edu