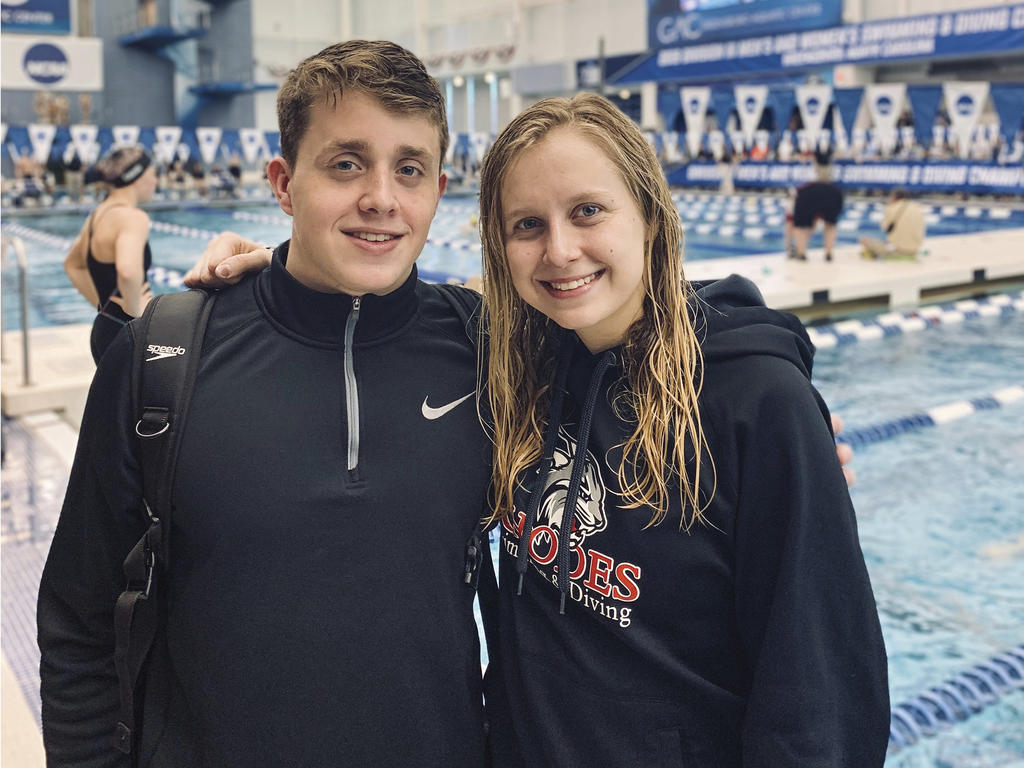 May 23, 2019
When siblings Allie '19 and Hayden '21 Hill both qualified for the 2019 NCAA Division III Swimming and Diving Championships, it capped off a historic season for the Lynx. It was the first time that both the men's and women's teams sent someone to the championship—and though it was an impressive accomplishment for the two, they are most proud to have experienced it together.
 Allie, who is the only Rhodes swimmer  to make four NCAA Championship appearances, wrapped up the most decorated career in Rhodes swimming history, with multiple Rhodes and SAA records, B cuts, 11 individual SAA titles, and three SAA Swimmer of the Year honors. She notes that although she didn't meet all of the goals she set for herself at Nationals,  competing with her brother and having her family there to watch her final laps was an experience she won't forget. "I swam for my last time, my last race ever of my college career, and my brother and my whole family and my coach were all there to see it, so it was pretty special. It was worth it for sure."
Allie, who is majoring in biology, was instrumental in convincing her brother to come to Rhodes. "I had two years under my belt, and I absolutely loved it. We grew up swimming, playing tennis, running cross country, doing all of these things together. I just pictured us being on the same team again, and I love my brother—anywhere with him would be so fun."
 Making his first appearance at the NCAA championship competition, Hayden broke the SAA Open record and Rhodes record in the 100 butterfly in his initial swim. He ended the competition with a personal best of 46.33 in the 100 freestyle and became the first All-American (honorable mention) in Rhodes program history. About the challenge of competing at the national level, Hayden says, "It was a good experience to swim against people who are faster than those we usually race against in our conference. At Nationals, you're looking at people who are beating NCAA records."
Last fall, the college invested in a covered enclosure for its pool during the winter. Previously, swim team members had to commute to The University of Memphis during the winter months to use their indoor facilities; staying on campus allowed the team to train twice a day, rather than just in the evenings, and gave the swimmers and coaches more flexibility in their practice times. Allie and Hayden agree that training on campus the entire season—from August through March—contributed to the swim teams' morale and overall competitiveness.
"I think it even made us more connected as a team," says Allie.  "It's been really good for our program, and I'm glad the college decided to invest in the swim team in that way."
 By Grace Merriman '21