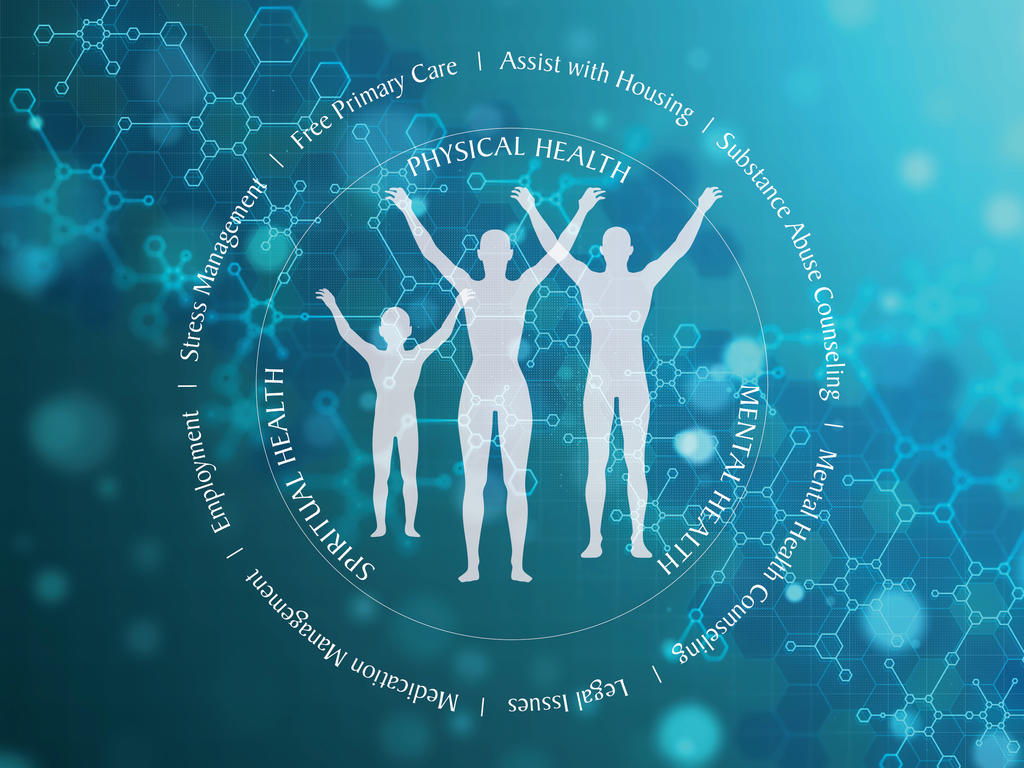 May 22, 2019
​​​​By Gaye Swan
Good health care outcomes rely on more than the traditional doctor's visit or prescribed medicine—factors such as transportation, legal services, education, food insecurity, and more can influence physical health. At Rhodes, professors, students, and alumni have joined forces with community partners to provide creative solutions to not only treat physical symptoms, but also to address the social determinants that are barriers to good health.
More Than . . .
Just a Clinic
A new kind of clinic is open for business in the traditionally underserved area of South Memphis. More than just a place to provide typical health care, the Wellness and Stress Clinic of Memphis seeks to provide holistic care that addresses the social issues that impede good health.

Working in partnership with community investors, Rhodes College is taking a lead role in the clinic's innovative approach to provide for the mental, spiritual, emotional, and physical needs of the Oakhaven area. Dr. Peter Hossler, assistant professor of urban and community health, is the clinic's program director.
"The clinic offers integrated services—such as primary health care, social services, legal aid, mental and behavioral health—working together to offer robust, wraparound care that uses the talents of all the partners in a cohesive way," Hossler says.

The clinic is the brainchild of Bishop William Young and his wife Pastor Diane Young of The Healing Center Baptist Church at 3885 Tchulahoma Road, where the clinic is housed, along with Dr. David Stern, the former Dean of the University of Tennessee Health Science Center (UTHSC). Additionally, Executive Vice- Chancellor Dr. Kennard Brown of UTHSC provided critical early infrastructure by donating equipment and supplies. Other partners include the University of Memphis, West Cancer Center, Memphis Area Legal Services, the Shelby County Public Defender's Office, and local government.
"We want to provide the resources that can help break systemic, long-term issues that are barriers to good health," Hossler says. "Income level, race, access to healthy food, and adequate housing are actually more powerful indicators of health than any metrics around a doctor's visit."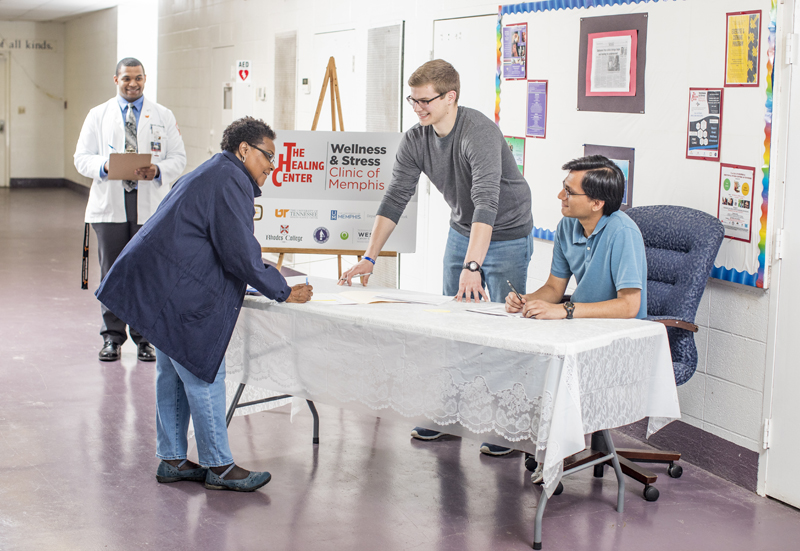 In addition to racial and socioeconomic barriers, distrust of doctors and traditional care settings plays a role. "Memphis has so many medical resources, but we still have a large medically underserved population. The Wellness and Stress Clinic is a way to leverage those resources to South Memphis, using a venue that has built up trust within the community: the church," he says.
Opened in April 2018, the clinic offers services completely free of charge, relying on professionals and students volunteering their time.
Rhodes students are critical to the clinic's long-term success. Undergraduates with an interest in health professions are front-line workers, assisting with patient navigation, intake and paperwork, and logistics—the friendly and accessible "face" of the clinic. Other students provide support through grant writing, conducting research, coordinating volunteers, and developing outreach strategies.
"Students bring talent, energy, and excitement to the endeavor, along with a desire to serve. It would be hard to run the clinic without them," Hossler says.
"The most important thing has to be the importance socioeconomic factors can have on a person's health. Some folks who come to the clinic are having to choose between paying their utility bill or paying for a visit to a health clinic." --JB Hayes '19
Urban studies major J.B. Hayes '19 began as an intern in January 2018, as the clinic team began to form. First tasked with researching and contacting free clinics around the nation to investigate thriving programs, his goal was to apply the successful models he discovered to the Wellness and Stress Clinic. He currently serves as a Client Navigator on the three nights a month the clinic is open, working with the intake desk to make sure that community members have access to all available services. Hayes is also a part of the clinic team that maintains client flow from an initial medical service to another needed service, outreach initiative, or prevention program.
"I have learned so much from this experience," he says. "The most important thing has to be the importance socioeconomic factors can have on a person's health. Some folks who come to the clinic are having to choose between paying their utility bill or paying for a visit to a health clinic. Understanding how other aspects of someone's life impacts their ability to be physically healthy is something that a lot of health care providers ignore."
"Working in the clinic gives providers and student volunteers the ability to gain a full understanding of the nature of the problems that affect good health," Hossler says. "They get to see what it really looks like rather than just reading about it."
This understanding is key to moving forward, he adds. "In the first year of the clinic, we needed 'proof of concept' to determine if the clinic would have the impact we thought it would. In year two, we will determine sustainability – where our value lies, and where we need to build and expand. Our goal is to have a long-term positive impact on both the community and on students."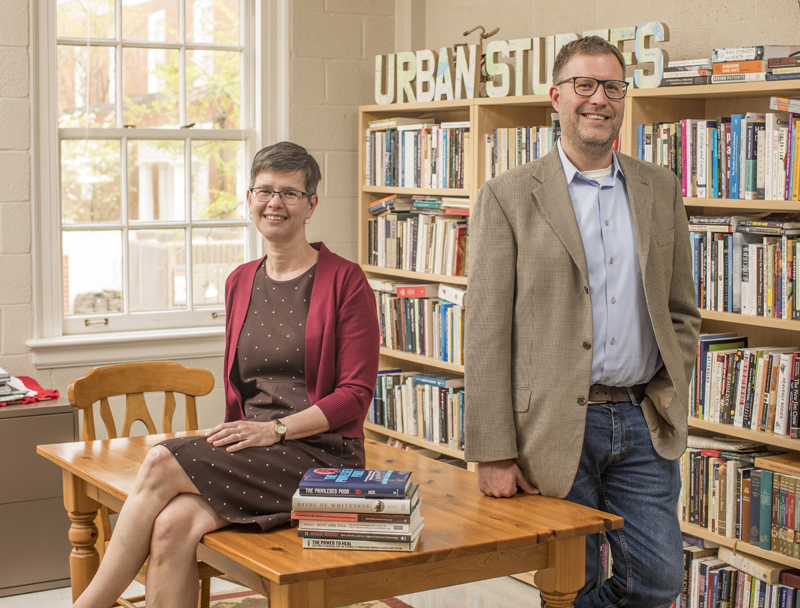 More Than . . . Just a New Health Certificate Program

"Health is not just medicine," says Dr. Kendra Hotz, associate professor of religious studies and the Robert R. Waller Chair of Population Health.
In fact, medicine is just a small sliver: "A good rule of thumb is that 10 percent of a good health outcome depends on your doctor and 10 percent relies on your access to quality health care. The remaining 80 percent depends on social determinants—transportation, food, education, and housing, for example. A surprising determinant, one that many may not think of, is pedestrian safety. Is your neighborhood safe to walk? Do you have sidewalks?"

Hotz's research has explored the relationship between religious belonging and good health, with a focus on the stories of those who experience disparities in health care. Created in 2017, the Waller professorship sharpens the focus on social determinants of health and has led to the creation of a new postgraduate program designed to help students gain a greater understanding of health-related socioeconomic factors and thus become more compassionate and skilled health care providers. Designed for the gap year between undergraduate work and medical school, nursing school, or other upper level health degrees (including health administration), the Post-Baccalaureate Certificate in Health Equity comprises six courses over 12 months.
The classes include "Narrative Medicine and Inequality," a holistic approach that teaches health care professionals to allow patients to fully explain the circumstances and issues that brought them to the provider in addition to their symptoms, and "Developing Cultural Humility," which investigates the role that unconscious bias plays in poor health outcomes.

"We are moving from doctor-centered care to person-centered care and creating a partnership for wellness," says Hotz. "Narrative medicine allows the patient to become the hero of her own story. Cultural humility does away with the idea that you can memorize a set of bullet points on a community or ethnicity and be an expert."
Other classes focus on politics, research methods, and global health disparities.

The first cohort for the certificate will begin in summer 2019. Interest is high, but the first group will be kept intentionally small. Gap-year students who are admitted through the Scribes Program at Methodist Le Bonheur will work as scribes with physicians and receive a scholarship and a stipend. There will also be some seats in the program filled by current health care practitioners.

"The Wellness and Stress Clinic works with the subjects of health disparities—the patients," Hotz says. "The Health Equity certificate works with those who unintentionally contribute to those disparities in the first place—the health care providers. Our goal is to teach love as a skill, to help providers learn to listen to the narrative and learn to respond out of a posture of love and respect."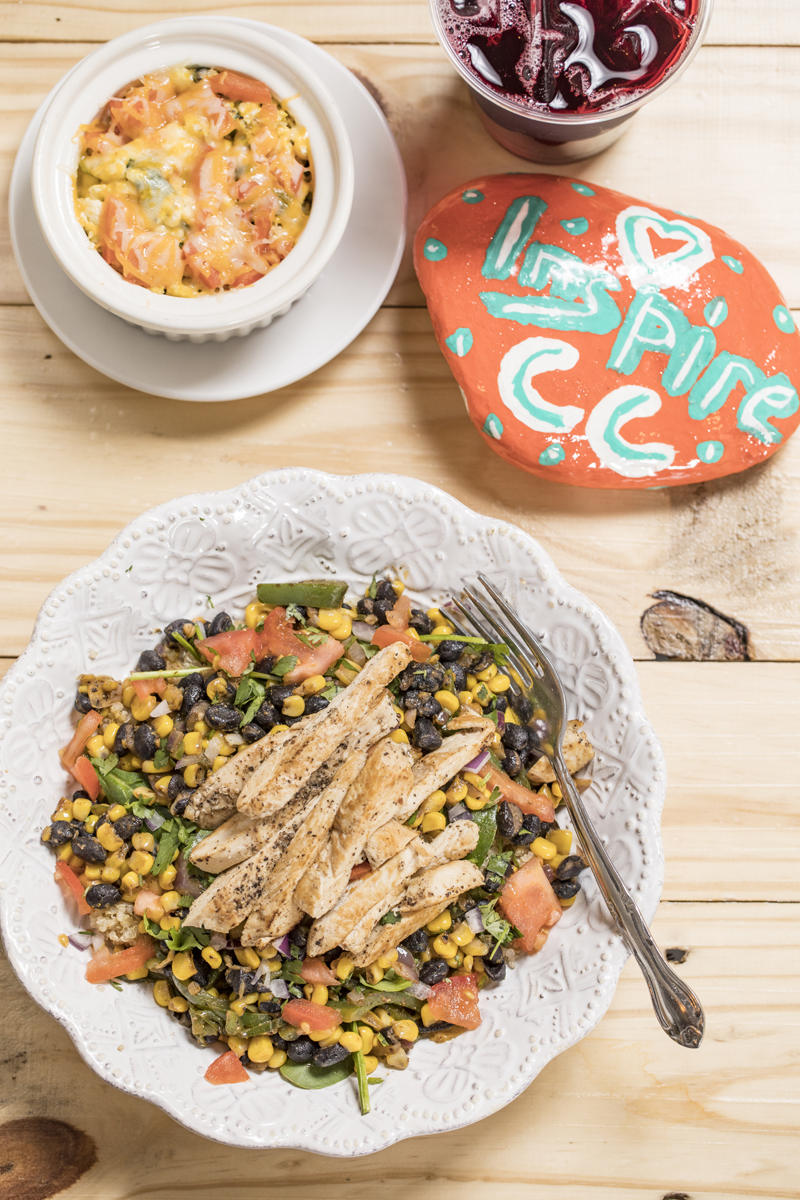 More Than Just . . . a Café
Nestled in a corner of the new Binghampton Gateway Shopping Center, Inspire Community Café is striving to live up to its name. More than just a café, Inspire is addressing three major determinants for good health: living wage jobs, access to healthy food, and social connection, all in a historically underserved area of Memphis.
"We value people over profit," says owner and co-founder Kristin Fox-Trautman '98. "By paying our team members a living wage, we strengthen their financial situation, which in turn leads to stronger households."
Fox-Trautman, a religious studies major at Rhodes who went on to attain a master's in urban anthropology, has a long history in the nonprofit sector in Memphis. She served as the vice president of BRIDGES for seven years, worked as a freelance consultant to nonprofits for five years, and is currently the director of grants for Playback Memphis.
Fox-Trautman began working, alongside her husband, Lucas Trautman, to realize the idea of a community café in 2014; before securing a bricks-and-mortar location, she started the business by launching a food truck in 2017. The café currently employs five full-time team members, including Fox-Trautman, and four part-timers that include teen apprentices. The goal is to provide meaningful work with benefits, training, and profit-sharing.
"Each employee is treated with value, as is each customer that walks in the door," Fox-Trautman says. "It is a key part of the experience, to feel nourished in spirit as well as in body."
The café offers an affordable and approachable menu—heavy on the healthy side! Food is locally sourced and providers are chosen that are owned by or supportive of women and people of color. With sometimes unfamiliar ingredients like quinoa and chia seeds, employees often get questions such as "What is that?" and "Do you have soda?"
"We like to have a little show-and-tell," Fox-Trautman says. "If someone asks for soda, we offer them a taste of our hibiscus tea. If they don't know what kale is, we let them sample a smoothie that blends kale with other ingredients. Terrance Whitley, our chef, will come out and talk to them about the food and let them try a bite."
Customers are greeted cheerfully on arrival and made to feel at home, in keeping with the café's mission to be a gathering place for people to connect, which can combat the social isolation that is often a barrier to good health.  "A strong sense of belonging is measurably health protective," notes Hotz. "Studies on the participation of religious communities demonstrate this, and there is good data on first-generation Latinx immigrants, who have unexpectedly good health outcomes in spite of lower socioeconomic status."
In addition to social connection, the café strives to provide an inspiring and nurturing space for local change-makers to collaborate. Space is available for gatherings, events, and fundraisers for local outreach programs, and 10 percent of the café's net profits are donated each month to nonprofit organizations committed to economic and racial justice.
"Our goal is to see a more just and compassionate community," Fox-Trautman says. "And we intentionally make the choices that contribute to a better Memphis."