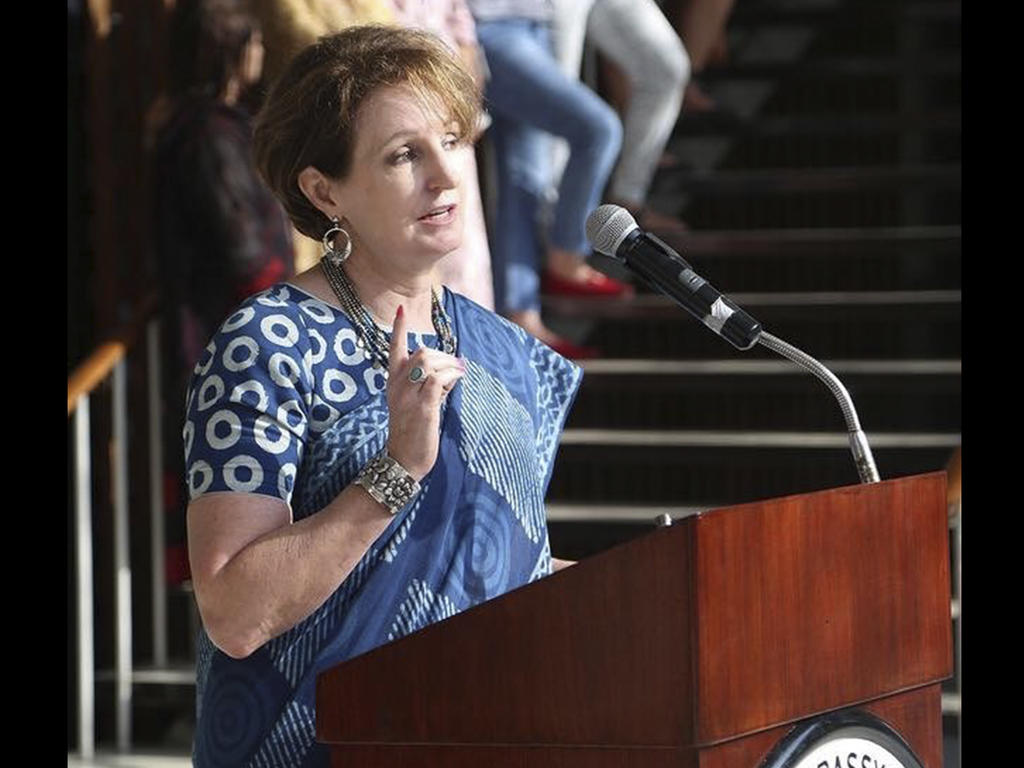 August 08, 2019
By Gaye Swan
As the old saying goes, every journey begins with a single step. For MaryKay Loss Carlson '81, the first step in a journey that would take her around the world as a career diplomat was . . . a misstep.
"It's funny, but I kind of fell into this career thanks to a bad lottery number my freshman year," Carlson says. "Back in the day, we actually drew numbers to select classes. By the time I got to pick, the classes I had originally wanted were filled, so I ended up taking Politics of Latin America."
Looking back, she is very thankful for that lottery number. Otherwise, she might never have taken the class, taught by former professor of international studies Dr. David Likes, which changed the course of her life.
"Dr. Likes was a true mentor before mentorships were a 'thing,'" she says. "He helped me spend a summer in Bolivia between my junior and senior years, where I stayed with two Rhodes graduates, Tom '64 and Eleanor Geiger '64. Tom was working for USAID in La Paz, and it was through them that I learned about the Foreign Service and working in U.S. Embassies overseas."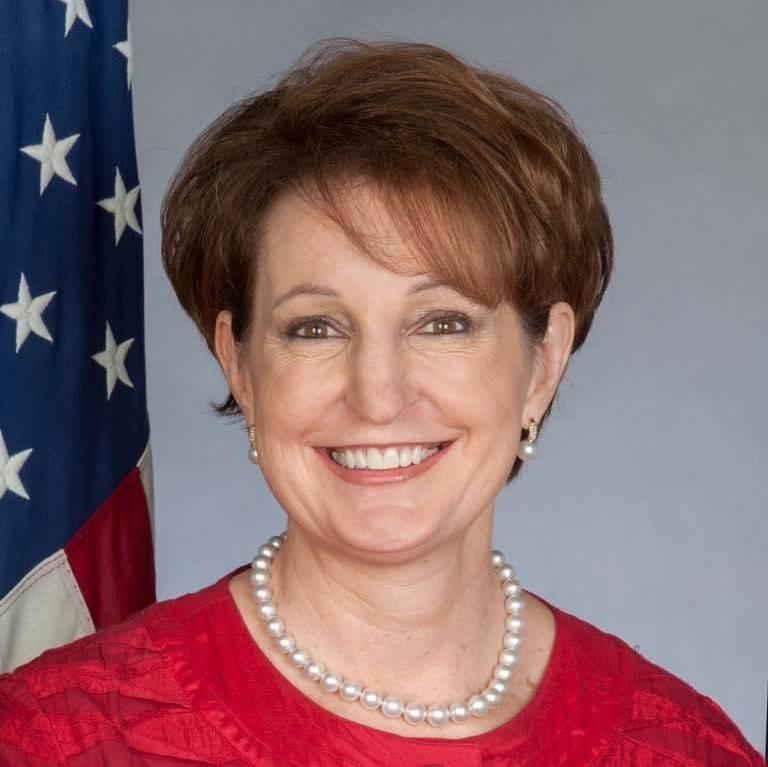 Carlson joined the Foreign Service in 1985 after earning a degree at Rhodes in Spanish and international studies and an M.A. in international relations from Georgetown University. She later received an M.S. in national security strategy from National War College.
Her first posting was as a consular officer in Santo Domingo, Dominican Republic. She can remember thinking that she'd never be able to interview up to 100 people a day and make determinations on the legality and viability of their visa applications. After a few weeks of training and getting more interviews under her belt, however, she was off and running.
"The biggest lesson I learned is the need to treat each applicant with respect," Carlson says. "Consular officers are the face of the United States, and how we treat applicants, even those who don't qualify for visas, matters."
Since then, she's lived and worked in Kenya, Mozambique, Taiwan, Mainland China (twice), Hong Kong, Ukraine, and India. This summer, she enjoyed a month-long leave with her husband, Aubrey, a fellow foreign officer who retired last year, and daughters, Kathryn and Karen, in Texas and Arkansas after serving for three years as the Deputy Chief of Mission at the U.S. Embassy in New Delhi, India.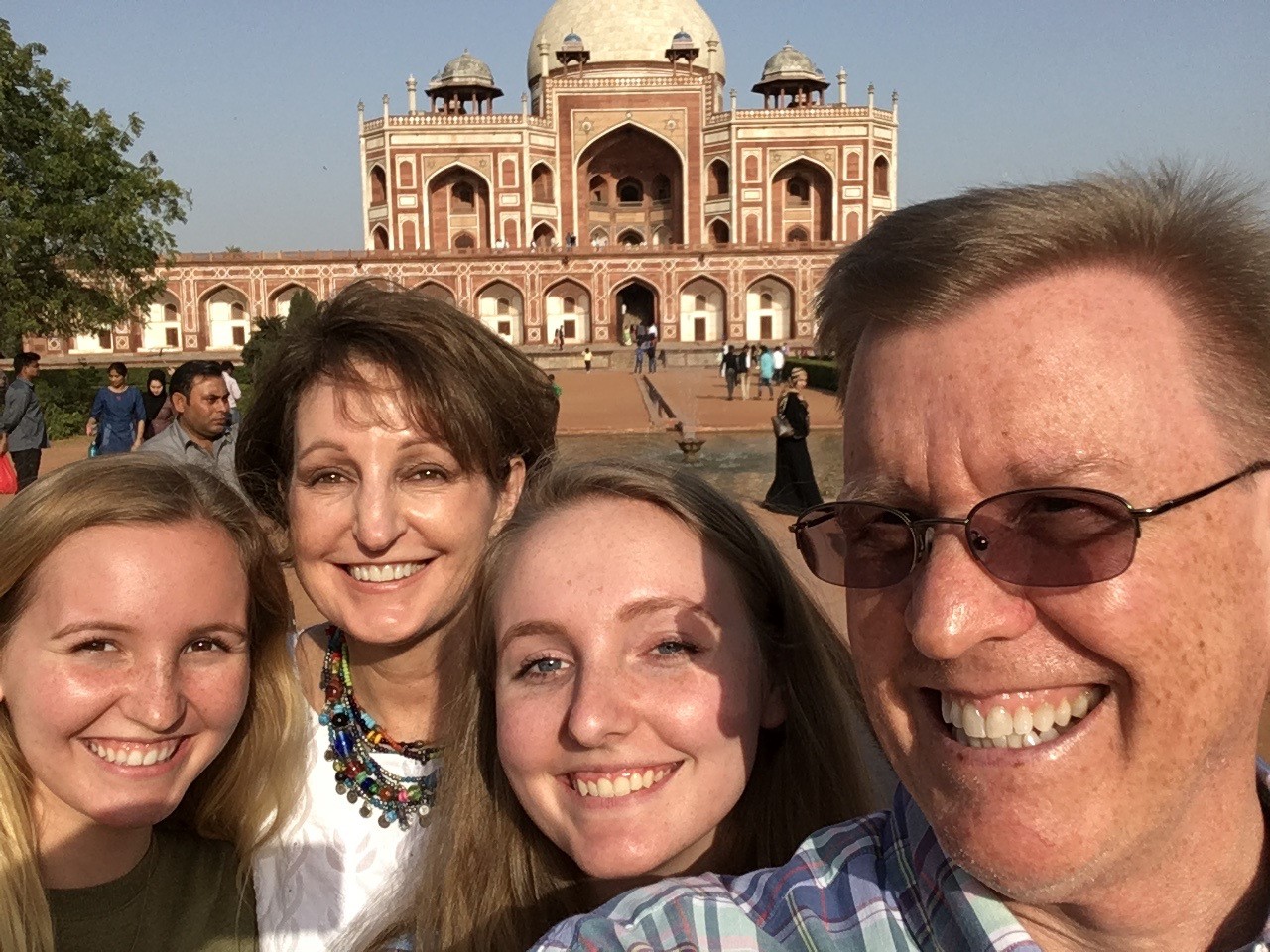 A Deputy Chief of Mission (DCM) is second-in-command to the Ambassador of an embassy, serving as both a key advisor and chief of staff, responsible for day-to-day management. The DCM represents the Ambassador inside and outside the embassy and is in charge when the Ambassador leaves the host country or when the post is vacant. Carlson served as the acting Ambassador in India for 10 months during her tour.
"In India, the U.S. Mission comprises not just the U.S. embassy in New Delhi, but also four U.S. consulates in Kolkata, Chennai, Hyderabad, and Mumbai, with over 500 U.S. employees and 2,000 Indian employees," Carlson says. "My job was to support the Ambassador in pursuit of our U.S. policy goals and also make sure that our large Mission was well-managed."
As a DCM, she was a strong supporter of women's rights, both in India and within the U.S. Mission. As a part of that aim, she focused additional energy on eliminating unconscious gender bias in the workplace. Carlson says the State Department strives to combat gender-based violence around the world, including the promotion of entrepreneurship opportunities for women. In November 2017, the U.S. and India co-hosted the Global Entrepreneurship Summit in Hyderabad, India, with the theme "Women First, Prosperity for All."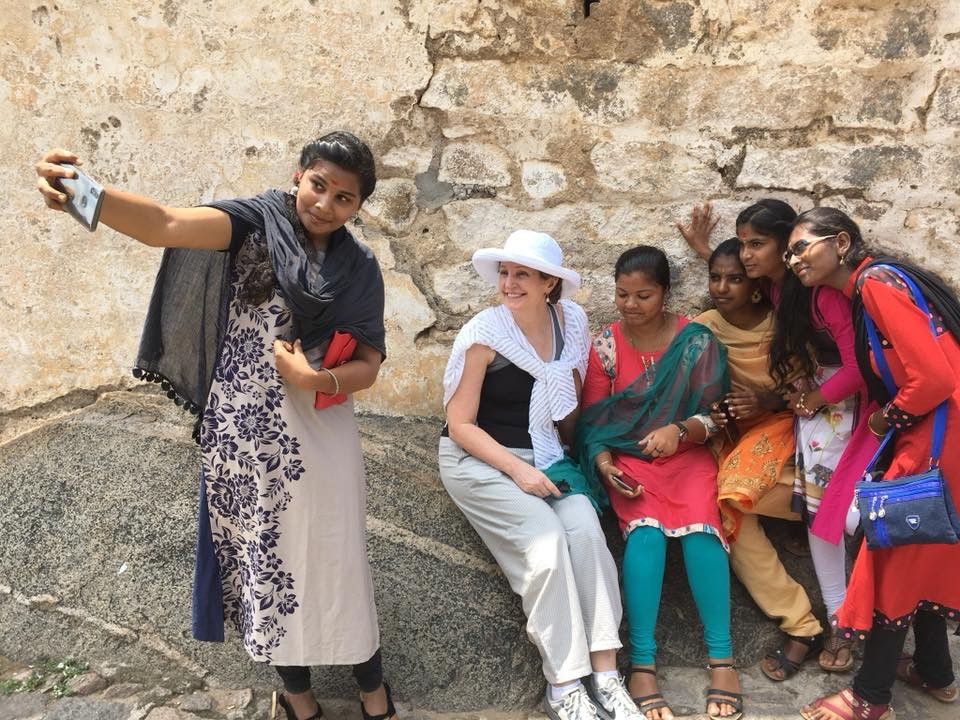 In addition, Carlson often hosted dinners and receptions on behalf of visiting delegations to promote U.S. trade and investment opportunities – and she enjoyed sharing a bit of America with her guests.
"I love to decorate for the holidays, and some of my favorite events that I hosted were during Halloween and Christmas," she says. "It was fun to invite Indians and third-country diplomats into our home to experience American culture, especially around Halloween, which is a quintessentially American holiday. The people-to-people bonds that form during such events can be very strong, and help shape favorable impressions of Americans in terms of our culture, diversity, and hospitality."
Carlson says she loved so many things about India – most especially, the warm personal relationships she developed – and often shared images and impressions of her host country on social media using the hashtag #IncredibleIndia. She became well-known for her appreciation of Indian textiles and was often photographed wearing one of the beautiful saris (also spelled "sarees") that she collected. For Indian Independence Day in 2017, she took to the Twitterverse to find the perfect sari for the event, asking her followers to choose the ensemble for the celebration with the hashtag #SareeSearch. The hugely popular contest between four stunning saris resulted in a win for a classic red Kanjeevaram silk sari.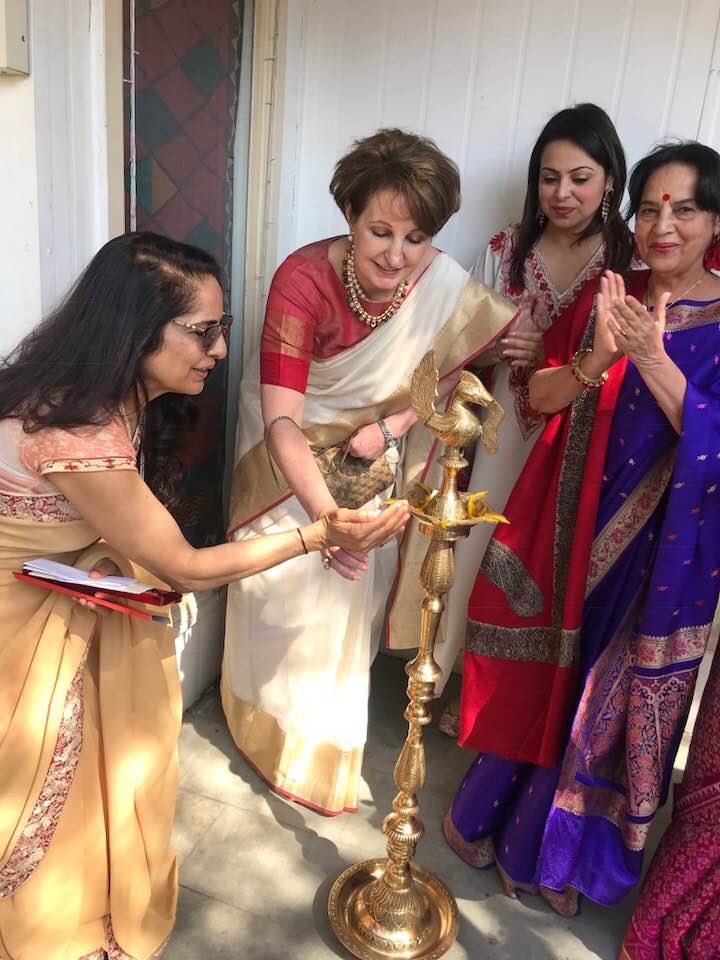 "Each and every posting I've had over the course of my 33-year career has been interesting and rewarding, perhaps none more so than India – a large, diverse country with a rich, civilizational culture. But as great as #IncredibleIndia is, the greatest thing about my job is representing our own incredible country – the United States of America. It is a real honor," she says.
Carlson's next posting is Deputy Chief of Mission in Buenos Aires, Argentina. Same job, different country, and she is looking forward to using her Spanish after being away from the region since her first posting.
Reflecting on the three decades that have passed since, she says the one piece of advice she most often gives to new Foreign Service Officers goes back to the lesson she learned her first year at Rhodes with that "bad" lottery number: "Sometimes you don't know what you should want! I've had a wonderful career that has taken me places I never expected. In 10 years, I may still be with the State Department – but I wouldn't hazard a guess as to what I'll be doing. Whatever it is, I'm sure I'll love it."