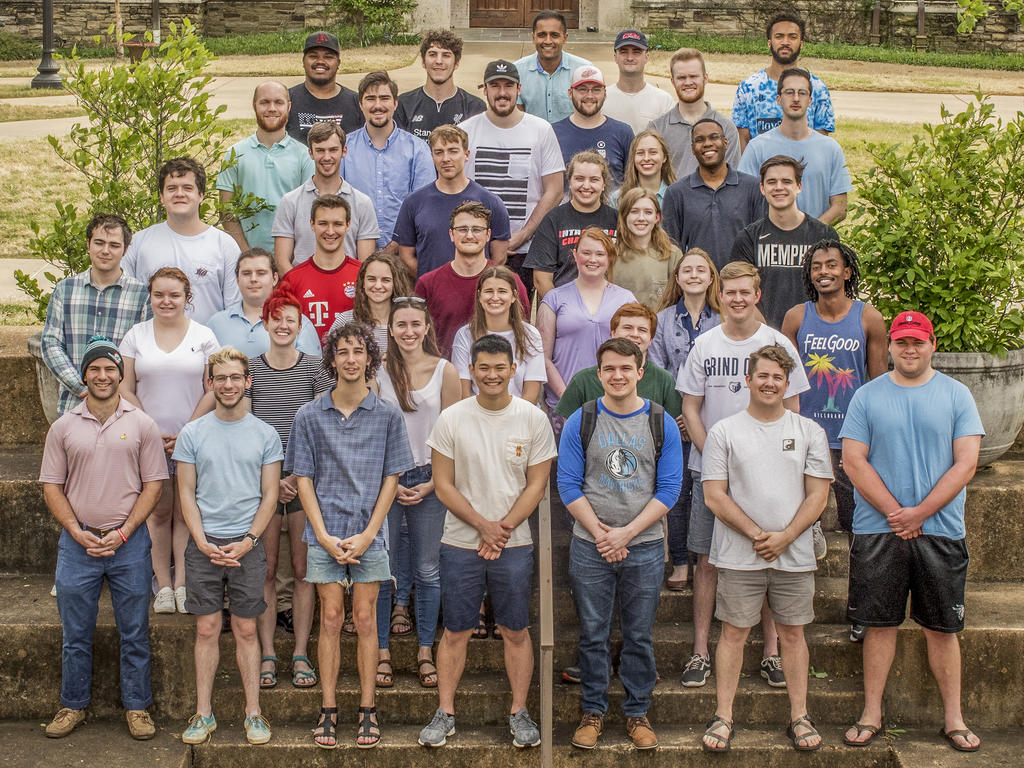 August 01, 2019
In 2019, the Department of Computer Science had 42 graduating seniors—nearly double the 22 seniors who graduated with computer science degrees in 2018, and leaps and bounds above the six in 2014. This unprecedented growth makes computer science (CS) the most rapidly expanding department at Rhodes, says Dr. Betsy Sanders, chair of the department, and it speaks to the growing demand for computer scientists in a highly digitized society.
Where can a degree in computer science from Rhodes take you? Graduates from the class of 2018 have continued on in graduate programs at Brown University, Vanderbilt University, and the University of Massachusetts at Amherst, just to name a few. Others received employment offers right after graduation from companies such as Amazon, IBM, International Paper, and FedEx. Some have even started their own companies.
Sanders says much of the growth and success of the program is due to the introductory course, which many students take to satisfy one of the requirements of Rhodes' Foundations Curriculum. "Some of the students who've  never studied computer science before and are initially introduced to it at Rhodes say, 'Oh wow, I thought this was going to be really geeky, but actually it's really fun and creative, and requires a lot of problem solving.' "
Students who continue taking computer courses find the major to be complementary to other areas of study, commonly pairing it with a business, economics, or mathematics major or minor—although one 2019 graduate was a computer science and theatre double major. A past graduate self-designed a computer science/English major, then continued on to earn a Ph.D. in digital linguistics.
Dr. Catie Welsh, assistant professor of computer science, says studying computer science at a liberal arts college such as Rhodes prepares students to succeed in the field. "Our students are set apart from students studying at an engineering school because, besides getting the computer science background, they are additionally getting the writing, analytic, and communication skills that our Foundation courses bring together. Our students are really suited to move up in positions faster and adapt to new jobs better than some of their peers in a lot of ways."
What does a CS major do while at Rhodes? It is common for Rhodes students to conduct research with faculty members; for example, Sanders' research examines how humans interact in virtual environments, and several of her students have co-authored papers on the subject with her. Students in one of her senior project groups designed a virtual reality simulation for experiencing the ways in which microaggressions are targeted toward LGBTQ members of society. 
Welsh's research interests are in the areas of bioinformatics and computational genetics, and she has collaborated on projects with St. Jude Children's Research Hospital. Welsh says St. Jude has been asking for more CS students to join the St. Jude Summer Plus Program, a 15-month research experience that normally attracts biology and chemistry majors. Five CS students have started the program this summer, joining the departments of radiology, biostatistics, and computational biology.
For the future, Sanders says there are plans to redesign the computer science program to accommodate its growth and to attract more female students. With a 30 percent female-to-male ratio, Rhodes is ahead of the national average, but the faculty is trying to think of creative ways to increase this percentage. Among other things, for several years the department has hosted a summer camp for middle and high school girls called Camp Codette to introduce coding and spark interest in girls from an early age. Sanders notes that they have had a few students come to Rhodes and major in computer science as a result.
Although the external benefits that come from a computer science degree—a strong global job market providing high paying jobs and a high rate of job satisfaction—are worthy of recognition, Sanders hails the discipline, first and foremost, for creating lifelong learners and thinkers.
"One of the things that's nice about computer science is that it's constantly changing as technology evolves. You have to continually teach yourself new things, and teach students how to teach themselves new things, and that's at the heart of the Rhodes vision statement."
By Grace Merriman '21
Watch the video below to see students in Dr. Ross Sowell's Human-Robot Interaction course and Dr. Betsy Sanders' Virtual Environments course show off their computer science skills at an end-of-year exhibition of class projects.