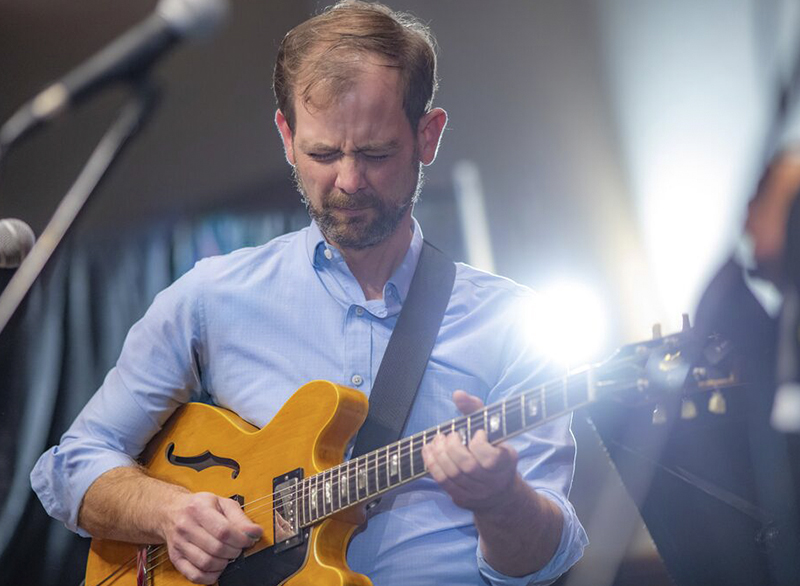 From iconic recording studios to Elvis' first home, the Mike Curb Institute for Music at Rhodes touches all aspects of the music industry.
Rhodes is one of only 38 programs named by Billboard Magazine as a 2022 Top Business School. The designation is based on factors that include industry recommendations, alumni information provided by honorees from multiple power lists, and information requested from each school. 
Billboard noted: "The historically rich and artistically vibrant city of Memphis is woven into the experience of all students at Rhodes College's Mike Curb Institute for Music . . . The institute also immerses students in the industry at large . . . Deeply rooted in Rhodes' broader liberal arts focus, the institute aims to produce graduates who not only know how to work in the industry but also how to think broadly about the world." 
"The recognition we've gotten from Billboard is an honor and reinforces our model of learning and how we are finding a different mechanism for music industry-based education though the liberal arts," says Dr. John Bass, associate professor of music and director of the Mike Curb Institute for Music at Rhodes. 
The Curb Institute was founded in 2006 through a generous gift from the Mike Curb Family Foundation to foster awareness and understanding of the distinct musical traditions of the South and to study the effect music has had on its culture, history, and economy. Students learn the inner workings of the music business from sound editing and video production to marketing and community engagement as they prepare to become the next generation of leaders. 
Curb fellows are comfortable working as members of teams, processing feedback, and making connections with recording artists, producers, concert promoters, engineers, songwriters, and copyright and trademark attorneys. Fellows also produce the on-campus music festival Respect Fest, as well as the Beyond Beale podcast, and Dredge zine, which spotlight the Memphis music scene. 
In the City's Studios
The Audio Engineering course takes students out of the Curb Institute's recording room to Memphis' historic studios, including Ardent Studios, whose artists have included Isaac Hayes, Led Zeppelin, the Staples Singers, and Bob Dylan, and Royal Studios, where Al Green, Ann Peebles, John Mayer, and Bruno Mars have recorded hits. 
Lina Beach '23 is the studio manager and engineer for the Curb Institute and was introduced to Royal Studios when Curb Fellows recorded a cover of "America the Beautiful" with Grammy-winning blues musician (and 2014 Curb Visiting Scholar in the Arts) Bobby Rush, which was released in 2021.
Established in 1957, Willie Mitchell's Royal Studios is one of the oldest perpetually operated recording studios in the world, containing rare vintage machines as well as the latest digital equipment. Lawrence "Boo" Mitchell, the son of original producer and legend Willie Mitchell, manages the studio. Last spring, Beach--who sings and play the guitar, bass, and piano--was hired to get footage from studio sessions and run the social media pages at Royal and watched as Boo Mitchell engineered and produced artists. She began to study the engineering side of music, and also began writing songs. Beach showed one to Mitchell, who encouraged her to write more. 
In the spring of 2022, she applied for and was accepted in the Rhodes Institute for Regional Studies, a summer program that allows students to pursue research and creative projects through the lens of Memphis and the Mid-South area. Now, the music major is cutting her debut album at Royal. 
"I had these songs I've been working on for about a year, and once I realized there was a Rhodes summer program that could help with expenses and put structure around this huge project while working alongside a cohort of awesome professors and students, I jumped at the idea," says Beach, who also asked Mitchell if he would produce her album.
"He responded saying that he'd be happy to produce a record for me. That blew me away, and I realized the power of an ask. A few of my songs were soulful, and although the idea seemed incredulous at the time, I asked him if there was any chance Hi Rhythm could play with me. Next thing I know I'm in the studio with these legends. It;s been a whirlwind. I've had experiences I never would've dreamed of, and I'm so thankful for everything and everyone that has made this possible."
Bringing Music Back to Elvis' First Home
In its feature of Rhodes' Mike Curb Institute for Music, Billboard also mentions the Audubon Sessions, which is a student-produced concert series held at 1034 Audubon Drive, Elvis Presley's first purchased home in Memphis. Although Elvis only resided in the Audubon House for 13 months, it was there that he recorded legendary hits such as "Hound Dog" and "Don't Be Cruel," began making movies, and rose to national stardom.  
When the home went on the market in 2006, the Mike Curb Family Foundation bought the house and established it as part of the Curb Institute. The house originally was used as a reception hall and meeting place for musical minds until 2013, when the first Rhodes-sponsored concerts, which came to be known as the Audubon Sessions, were held. These concerts were an instant hit, hosting both local and national artists, including singers Rosanne Cash and Valerie June, Bobby Rush, jazz saxophonist Charles Lloyd, and hip-hop artist PreauXX. 
In 2017, disaster struck as the Audubon House suffered first floods from frozen pipes and then major fire damage. The Audubon Sessions ground to a halt and the house remained largely unoccupied until the summer of 2022. Jackson Hendrix '24, a computer science and media studies double major, had heard countless stories of the success of the concerts and applied to the Rhodes Institute for Regional Studies, just as Beach had done, to pursue as his project a revival and documentation of the series. 
The collaborative nature of the Audubon Sessions made their comeback in the short eight weeks of the Rhodes Institute a daunting goal. Hendrix started small, with Bass and Dr. Charles Hughes, director of the Lynne and Henry Turley Memphis Center, as performers and the production crew in attendance. The concert and video shoot to document the production process were a success, but it became clear that to rekindle the musical magic of the original Audubon Sessions, he would have to upscale the operation. His next session was triple the size of the previous one, including an actual audience. 
Hendrix continues to lead the video team for the Curb Institute and plans to help keep the Audubon Sessions going as well as foster a connection between Rhodes students and Memphis music.
 Hannah-Elsie Meit '25 contributed to this story.