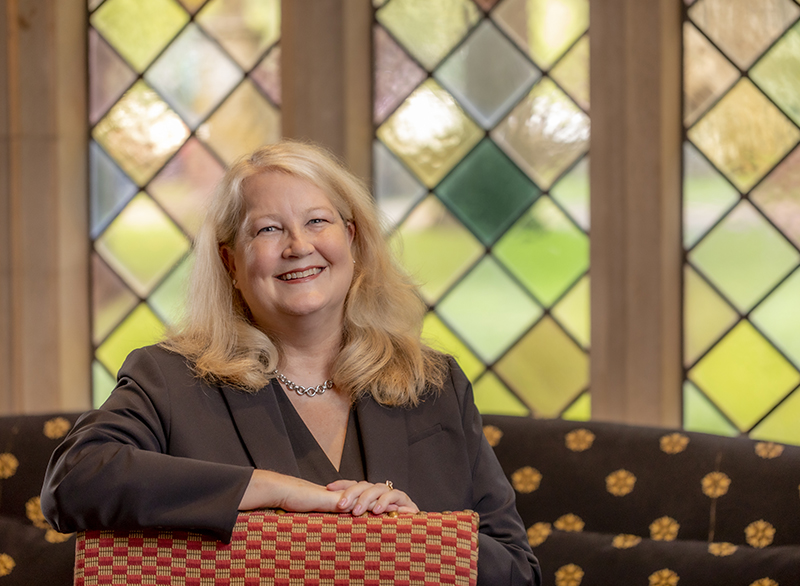 President Jennifer Collins' path to Rhodes has combined a traditional road to a college presidency with a decidedly different resume that includes a law degree from Harvard Law School, private law practice before joining the U.S. Department of Justice Office of Legal Counsel, and eight years as an Assistant United States Attorney in the District of Columbia where she prosecuted homicide cases. 
Collins then joined the faculty at Wake Forest University, rising to vice provost, before heading to Southern Methodist University where she served as the Judge James Noel Dean and professor of law. During her eight years at SMU, she raised more than $50 million, launched three new academic centers, opened legal clinics, and supported more than 800 domestic and international students. We asked President Collins how her background has prepared her for her new role at Rhodes, her goals for the college, and what she has enjoyed most about her move to Memphis.
You hit the ground running when you arrived in the summer. What was your first priority? 
My first priority was to listen and learn. Rhodes is an incredible community with a rich history and deeply held traditions and values. It was important to me to meet with as many students, staff, faculty, community partners, and alumni as I possibly could. These conversations are continuing and ongoing. Having the chance to truly immerse myself in this community and learn about all the things that make Rhodes special has been wonderful.
You've spent a lot of time getting to know our students. What has most impressed you?
Our student body is brilliant, talented, diverse, interesting, and compassionate. They have real passion for the education they are getting in the classroom and for the service and extracurricular opportunities outside the classroom. I have truly enjoyed getting to know them.
They give me hope. That's a cliché thing to say, but looking at the young people at Rhodes, I know they are going to do amazing things upon graduation. 
You've also spent a great deal of time with faculty. What are your takeaways from those visits?
One of the most remarkable things about our faculty is that they are not only committed, talented teachers and mentors, they are also doing meaningful, impactful research outside the classroom. This is exciting for two reasons. It gives students the opportunity to get involved in that research and have truly high-impact learning experiences. In addition, the faculty is independently producing insightful knowledge, creative activity, and scientific discoveries to share with the world. 
For example, two of our chemistry professors were just awarded a $300,000-plus grant from the National Science Foundation – that is so impressive. Hearing about the terrific work they are doing in their departments and the ways in which they contribute to our students' education has been very rewarding.
What is your vision for Rhodes College?
I want to be clear that I think it is important to have a collaborative vision, and I've only been here a short time. The vision is continuing to develop as I receive input from the community. 
I think that Rhodes is an extraordinary model of the very best of the liberal arts education. I hope to increase our national and international recognition as such. To do that, we have to think about the ways we tell our story. Are we telling our story in the most compelling and effective way that we possibly can? That is key to attracting prospective students and maintaining community and alumni engagement. 
Since I arrived, I've been greatly impressed by the hopes and ambitions of our students, faculty, and staff. We have big dreams for ourselves, and we need to be sure we have the tools available to accomplish them. Generating additional resources through the launch of a new capital campaign is a big part of my vision.
I want to increase our focus on diversity, equity, access, inclusion, and belonging across campus. Vital work has been done already, and continuing the effort is a critically important facet of our work together at the college. 
Continuing to strengthen and deepen our relationship with the city of Memphis is another significant focus. We have the extraordinary good fortune to be a liberal arts college in a major city. I want to take this opportunity to think about how we truly use that gift to make Rhodes a distinctive liberal arts experience. It also gives us the obligation to think about how we can be a good partner to the city. Rhodes has done terrific work in that regard, and I look forward to continuing it. 
Do you plan to revise the college's strategic plan? If so, in what way?
We did enter into the plan before COVID-19, so I think it is essential that we take a look at it to make sure it reflects how higher education has changed. The pandemic changed the higher education experience in profound ways. For example, we were certainly seeing increased concerns about student mental health before COVID. Those have only heightened in the wake of the pandemic, and frankly, faculty and staff mental health is a concern as well. We need to ensure that we are paying enough attention in the strategic plan to the well-being of our entire community. 
Thinking about how we retain talent in light of the "great resignation" will be an important focus in an increasingly competitive marketplace. 
The people who put the strategic plan together did a terrific job, so I certainly don't think we will see any wholesale revision. We want to honor and respect the extremely diligent work that went into it. But we do want to make sure that we have fully accounted for the realities of higher education post-COVID.
Rhodes is often named one of the most beautiful campuses in the nation. What do you think makes it special?
The soaring nature and consistency of the architecture is very remarkable. One of my great joys is coming into my office in the morning – my breath is taken away by the stained-glass windows. It is such a beautiful and unique facet of our campus. Rhodes has been so committed to maintaining that architecture and so thoughtful about keeping the campus connected. We have a talented architect that has been instrumental in helping us maintain the consistency. 
I think it is absolutely one of the most beautiful campuses I've ever seen. It is a joy to walk on the grounds every day. But I want to emphasize that I think the most beautiful part of the Rhodes experience is what takes place inside our buildings – the incredible relationships our students form with faculty and with each other. Rhodes graduates consistently tell me the college changed their lives, and that is because of the fantastic experience our hardworking faculty and staff strive to provide every day. 
You have a very diverse background for a college president. Thinking about that background, what has most prepared you to step into your role as president?
I've been immeasurably blessed in my career to have a number of different work experiences. Being a faculty member and a scholar deeply committed to my teaching and research hopefully enables me to support faculty. When I was at Wake Forest, I had the chance to move into administration and work very closely with undergraduate students and think about how to improve the student experience. When I got to SMU, I had the opportunity, in essence, to run the equivalent of a small college and focus on fundraising, alumni relations, and many of the externally facing parts of the job.
The most unusual part of my background is that not only was I a practicing lawyer for 10 years, I worked primarily as an Assistant United States Attorney in Washington, D.C., where I focused on homicide cases. 
I would say my somewhat unusual background serves me well in two ways. One, my time in government service taught me to be absolutely unflappable in a crisis. You are dealing with the worst moments in people's lives, whether it is the victim's family, the witnesses, or the defendant's family. You have to be the steadying hand during their journey through the criminal justice system. It definitely helps you keep things in perspective. 
Two, my experience has taught me to be a good storyteller. To be a college president or academic leader, you have to be able to tell the college's story in a compelling, convincing, and exciting way. I don't think there is any better preparation for doing that than having to stand in front of 12 citizens who couldn't figure out how to get out of jury duty and who are evaluating the merits of a really important criminal case. You must develop the ability to convey information in a compelling and accessible way. I think that ability has served me very well.
You've had some time to get to know Memphis. What have you enjoyed most about the city since you arrived?
My husband and I are foodies and we have very much enjoyed the wonderful restaurant scene and sampling different dishes. I'm also a big music fan and we've appreciated the opportunity to visit some of Memphis' outstanding musical venues. Of course, we've loved cheering our Lynx sports teams. 
What are the benefits of Rhodes being in a city the size of Memphis, and what should that partnership look like?
A city the size of Memphis gives students many pathways to internships and externships. A student who wants to be a veterinarian may be able to intern at the Memphis Zoo, and another interested in a medical career can do high-level, impactful research at St. Jude. For students with a heart for service, our location gives them the chance to engage in community service.  Rhodes can provide our students with incredible opportunities that aren't available at schools that don't have the same good fortune to be located in a city like Memphis. 
I think it is essential for us to be a partner to the city of Memphis and carefully listen to what the community needs and wants from us, rather than us parachuting in with our own set of goals in mind. We need to learn from our community partners, who are out there doing the work every day. 
Is there anything else you would like to add?
It has been a joy and an honor to have the opportunity to be a part of this community. We are hitting the road this year and I'm so excited to meet with our alumni all across the country and hear their experiences with Rhodes, what they loved, and what their hopes are for the institution going forward. I'm eagerly 
anticipating the conversations and joining with the community to move Rhodes forward together.